CLONE TROOPERS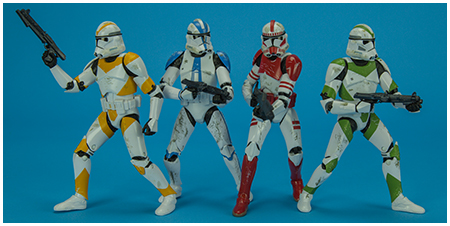 The Black Series 2016 Entertainment Earth Exclusive Clone Trooper Four Pack
Revealed on September 30th as part of the 2016 Force Friday event, Entertainment Earth's exclusive The Black Series 2016 Entertainment Earth Exclusive Clone Trooper Four Pack offered collectors of The Black Series 6-Inch line four debut Phase II Clone Trooper figures. the set is slated for a November release.
212TH ATTACK BATTALION UTAPAU TROOPER
These clone troopers served with Jedi Master Obi-Wan Kenobi in the Grand Army of the Republic's 212th Attack Battalion during the Clone Wars.
501ST LEGION CLONE TROOPER
An elite unit of clone troopers, the 501st Legion patrolled the grounds after their siege of the Jedi Temple on Coruscant.
CORUSCANT GUARD (PHASE II)
As members of the Coruscant Guard, a military police unit stationed in the capital world of the Galactic Republic, clone shock troopers were the elite soldiers of the Grand Army of the Republic during the Clone Wars.
442ND SIEGE BATTALION CLONE TROOPER
Equipped with AT-RT walkers and ISP speeders with green markings, and skilled in besieging enemy fortifications, the 442nd Siege Battalion was a unit of clone troopers within the Grand Army of the Republic during the Clone Wars.

Product Information
Manufacturer:
Hasbro
Year:
2016
Original Retail:
$99.99
Product Number:
C0495
UPC Number:
6 30509 50589 0
What's In The Box?
212th Attack Battalion Utapau Trooper Action Figure
DC-15 Blaster
501st Legion Clone Trooper Action Figure
DC-15 Blaster
Coruscant Guard (Phase II) Action Figure
DC-15A Blaster Rifle
442nd Siege Battalion Clone Trooper Action Figure
DC-15 Blaster
Text & Photography by D. Martin Myatt
Page Built by Adam Lamping
comments powered by

Disqus