COMMANDER BACARA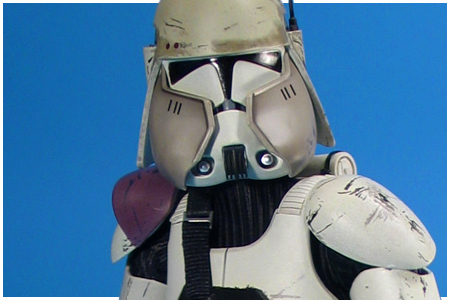 Militaries Of Star Wars 1/6 Scale Figure
Sideshow Collectibles announced the 1/6 scale Militaries Of Star Wars Commander Bacara figure on October 6th, 2011 and it went up for pre-order seven days later. THe figure began shipping in June, 2012.

Product Information
Year:
2012
Original Retail:
$134.99
Exclusive Item Number:
21851
Regular Item Number:
2185
Exclusive Edition Size:
1,000
Regular Edition Size:
5,000
What's In The Box?
Commander Bacara Body w/ Clone Armour
6x Right Hands
7x Left Hands
2x Sets Of Feet
Long Clone Rifle
Clone Blaster
Clone Pistol
Exclusive Edition: 21st Nova Corp Galactic Marines Display Stand (three pieces)
Regular Edition: Black Star Wars Logo Display Stand (three pieces)
Photography & Text by D. Martin Myatt