COMMANDER GANCH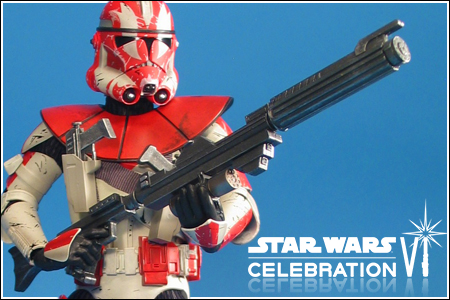 Celebration VI Exclusive 1/6 Scale Figure
When revealed on May 8th, 2012, Sideshow Collectibles' 1/6 scale Militaries Of Star Wars Commander Ganch figure became the first Celebration VI exclusive announced. The figure was based on the Star Wars: The Clone Wars webcomic series, and comes equipped with both his Phase I and Phase II buckets. While it has been suggested that there were only 300 pieces made available at Celebration VI, no official production number has been publicized.

Product Information
Manufacturer:
Sideshow Collectibles
Year:
2012
Original Retail:
$124.99
Item Number:
100205
Edition Size:
Limited Edition (No Published Edition Size)
What's In The Box?
Ganch Figure w/ Full-Body Clone Armour
6x Right Hands
7x Left Hands
2x Pairs Of Boots
Phase I Clone Helmet
Phase II Clone Helmet
Ganch Head
BlasTech DC-15A Long Range Blaster Rifle
BlasTech DC-15S Blaster Carbine
2x BlasTech DC-17 Blaster Pistols
Shoulder Pauldron
Neck Piece
Display Stand w/ Ganch Insignia (three pieces)
Photography & Text by D. Martin Myatt