BRAIN INVADERS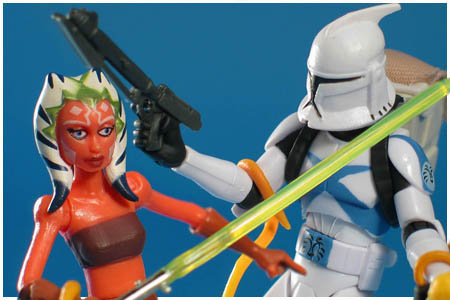 DVD Two Pack with Ahsoka & Clone Trooper Scythe
Since The Clone Wars line started back in 2008, there have been a number of releases, mainly 2-packs and primarily Walmart exclusives, that have also included a bonus DVD. Starting with a set of three that featured six characters from the Malevolence story-arc from season 1 that were released in 2010, these were followed by Weapons Factory and Landing at Point Rain in 2011. A further two-sets, Legacy of Terror and Brain Invaders, were announced as a Walmart exclusive at San Diego Comic Con in July, 2011, with an anticipated on-shelf date of August of that year. Unlike the previous waves of DVD 2-packs however, these would not comprise straight repacks.
August came and went and the sets failed to materialise in the US as expected, amid reports that they had been cancelled, so it was something of a surprise when they appeared in several discount chains in March 2012, and at a lower price than would have been the case had Walmart sold them.

Product Information
Year:
2012 (meant for 2008)
Original Retail:
$9.99
Assortment Number:
31678/30411
UPC Number:
6 53569 60689 15
What's In The Box?
Ahsoka Tano Figure
Clone Trooper Scythe Figure
Lightsaber
Clone Blaster
DVD
2x Silver Display Stands
2x Galactic Battle Game Cards
Game Die
About This Set
Of the two sets, and a new Clone Trooper aside, Brain Invaders offers slightly more to the collector than Legacy of Terror, if only due to the conveniently posed brain worm that is wrapped around Ahsoka Tano's leg. Nevertheless, it's likely that it is Clone Trooper Scythe that will be the appeal of this particular set, coming as he does with both a brain worm egg and a brain worm, but also a removable helmet and a rather unique deco. Not only is Scythe's armor adorned with a matching insignia on both his shoulders and belt "buckle", but he also has an unusual tattoo slap bang in the middle of his forehead, typically referred to as an identifying mark. The body of the figure utilises the original Clone Trooper mold, such that it includes both ankle and knee articulation.
While not noticeable at quick glance, the paint ops for the Ahsoka figure are different from previous releases. This one features very sharp spray masks on the dark blue detailing and the eyes are painted with less attention to detail.
Text by Adam Lamping
Photography by D. Martin Myatt