DARTH MAUL WITH MECHA LEGS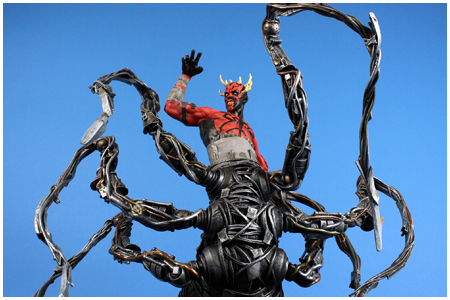 Limited Edition Statue
After surviving his bisection at the hands of Obi-Wan Kenobi, Darth Maul managed to find his way to the junk planet of Lotho Minor. There, he slowly succumbs to insanity while assembling a terrifying chassis designed to resemble spider legs from scrap metal. It is almost a decade before his brother, Savage Opress, finds him and reintroduces his evil to the galaxy.

Product Information
Manufacturer:
Gentle Giant
Collection:
Statue
Source:
Star Wars: The Clone Wars
Year:
2013
First Revealed:
San Diego Comic-Con 2012
Pre-Order Date:
November 2012
Ship Date:
August 2013
Original Retail:
$399.00
Edition Size:
400 Pieces
Item Number:
80287
UPC Number:
8 71810 00973 2
What's In The Box?
Darth Maul (Top half)
Chassis
(6) legs
Base
Certificate of Authenticity
Points Of Interest
The base is 17" across, the entire piece stands 16" tall and weighs 15 pounds, 15.5 ounces
It's recommended to leave at least 18" both sideways and front to back for clearance due to the legs protruding out past the edge of the base
Each leg is numbered to coincide with a specific slot on the chassis
This statue is part of the 1:6 scale collection
Text, Photography & Page by Chris Wyman
comments powered by

Disqus