DARTH VADER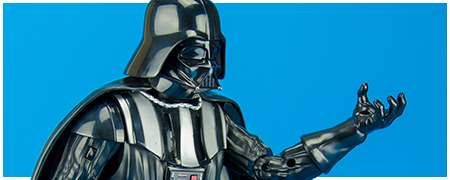 Disney Store Exclusive Talking Action Figure
The Disney Store exclusive Talking Darth Vader was one of the first six figures revealed at a special invitation-only press event held on April 22, 2014. Also revealed were the Stormtrooper, Han Solo, Luke Skywalker, Chewbacca, and Boba Fett figures.
Released on May 26, 2014, the Talking Darth Vader figure was the fourth figure released in the Disney Store exclusive collection.

Product Information
Manufacturer:
Disney Store
Collection:
Talking Action Figures
Source:
Star Wars: A New Hope
Year:
2014
Original Retail:
$29.95
What's In The Box?
Darth Vader Talking Action Figure
Phrases
*Trademark Breathing*
"The Force is with you, young Skywalker. But you are not a Jedi yet."
"You have learned much, young one."
"If he could be turned, he will become a powerful ally."
"If you only knew the power of the dark side."
"No, I am your father."
"If you will not fight, then you will meet your destiny."
"What is thy bidding, my master?"
"Your destiny lies with me, Skywalker."
"You underestimate the power of the dark side."
"I sense something. A presence I have not felt since..."
"There will be no-one to stop us this time."
"We meet again at last."
"The Force is strong in this one."
"Don't underestimate the power of The Force."
"I've been waiting for you Obi-Wan."
Text & Photography by D. Martin Myatt
Page Built by Adam Lamping
comments powered by

Disqus