HAN SOLO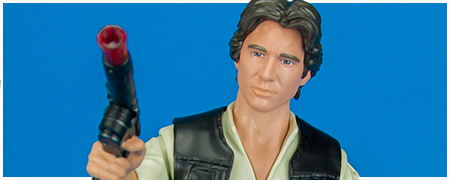 Disney Store Exclusive Talking Action Figure
The Disney Store exclusive Talking Han Solo was one of the first six figures revealed at a special invitation-only press event held on April 22, 2014. Also revealed were the Stormtrooper, Luke Skywalker, Darth Vader, Chewbacca, and Boba Fett figures.
Released on May 12, 2014, the Talking Han Solo figure was the second figure released in the Disney Store exclusive collection.

Product Information
Manufacturer:
Disney Store
Collection:
Talking Action Figures
Source:
Star Wars: A New Hope
Year:
2014
Original Retail:
$29.95
What's In The Box?
Han Solo Talking Action Figure
Removable Vest
Phrases
"What are you looking at? I know what I'm doing."
"You know sometimes, I amaze even myself."
"Han Solo. I'm captain of the Millennium Falcon."
"Chewie, lock in the auxiliary power."
"No reward is worth this."
"You're all clear kid. Now let's blow this thing and go home."
"Not a bad bit of rescuing, uh?"
"Hey, Luke. May the Force be with you."
"Hokey religions and ancient weapons are no match for a good blaster at your side, kid."
"Great kid. Don't get cocky!"
"Look, your worshipfulness. I take orders from just one person. Me!"
"I got a bad feeling about this."
"Yahoo!"
"Great shot kid. That was one in a million!"
"Chewie! Get us outta here."
"Go strap yourselves in. I'm gonna make the jump to lightspeed."
"We're caught in a tractor beam. It's pulling us in."
Text & Photography by D. Martin Myatt
Page Built by Adam Lamping
comments powered by

Disqus