LUKE SKYWALKER (X-WING PILOT)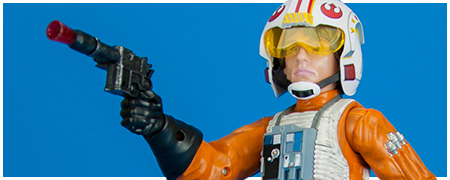 Disney Store Exclusive Talking Action Figure
The Disney Store exclusive Talking Luke Skywalker was one of the first six figures revealed at a special invitation-only press event held on April 22, 2014. Also revealed were the Stormtrooper, Han Solo, Darth Vader, Chewbacca, and Boba Fett figures.
Released on May 19, 2014, the Talking Luke Skywalker figure was the second figure released in the Disney Store exclusive collection.

Product Information
Manufacturer:
Disney Store
Collection:
Talking Action Figures
Source:
Star Wars: A New Hope
Year:
2014
Original Retail:
$29.95
What's In The Box?
Luke Skywalker Talking Action Figure
Removable Flight Helmet
Phrases
"You worry about those fighters. I'll worry about the tower."
"Watch yourself. Increase speed full throttle."
"No sign of any...wait! Coming in point 3-5."
"It'll be just like Beggars Canyon back home."
"Artoo! Try and increase the power."
"Red leader, we're right above you. Turn to point 0-5. We'll cover for you."
"I'm hit, but not bad. Artoo. See what you can do with it."
"Nothing! I'm alright."
"Not on your life. That little droid and I have been through a lot together."
"My scope's negative. I don't see anything."
"This is Red Five. I'm going in."
"I'm on it."
"Artoo. That stablizer's broken lose again. See if you can't lock it down."
"I got a little cooked, but I'm OK."
"I've lost Artoo."
"Red Five standing by."
"You OK Artoo? [Artoo whistles]. Good."
"Thanks Wedge. Let's close it up. We're going in, we're going in full throttle. That oughta keep those fighters off our backs."
"Get clear Wedge. You can't do any more good back there."
"I can't shake him!"
Text & Photography by D. Martin Myatt
Page Built by Adam Lamping
comments powered by

Disqus