STORMTROOPER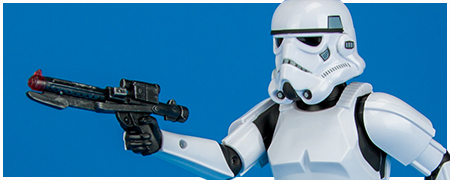 Disney Store Exclusive Talking Action Figure
The Disney Store exclusive Talking Stormtrooper was one of the first six figures revealed at a special invitation-only press event held on April 22, 2014. Also revealed were the Han Solo, Luke Skywalker, Darth Vader, Chewbacca, and Boba Fett figures.
Released on May 4, 2014, the Talking Stormtrooper figure was the first figure released in the Disney Store exclusive collection.

Product Information
Manufacturer:
Disney Store
Collection:
Talking Action Figures
Source:
Star Wars: A New Hope
Year:
2014
Original Retail:
$29.95
What's In The Box?
Stormtrooper Talking Action Figure
Phrases
"There's one. Set for stun."
"Take over."
"These aren't the droids we're looking for."
"We don't need to see his identification."
"You stand guard."
"Give me regular reports please."
"Look sir. Droids!"
"Close the blast doors!"
"The Death Star plans are not in the main computer."
"Move along. Move along."
"Alright, let's go."
"Alright men, load your weapons."
"Do you know what's going on?"
"How long have you had these droids?"
"Maybe it's another drill."
"Follow me."
"It's them. Blast them!"
"Let me see your identification."
"She'll be alright. Inform Lord Vader we have a prisoner."
"Someone was in the pod. The tracks go off in this direction."
"Stop that ship! Blast them!"
"Open the blast doors!"
Text & Photography by D. Martin Myatt
Page Built by Adam Lamping
comments powered by

Disqus