D-TECH ME STORMTROOPER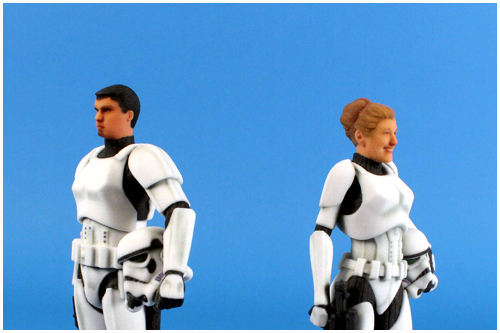 Chris Wyman And Wife Courtney In Stormtrooper Disguise
The Stormtroopers are the elite soldiers of the Galactic Empire. Darth Vader and his Master, Emperor Palpatine, need new recruits for their Imperial forces and the Empire wants you! Join the Imperial Academy today and suit up for the STAR WARS D-Tech Me Stormtrooper Corps.
Created especially for Disney Parks, this three-dimensional, 7-inch figurine features your likeness in head-to-toe Stromtrooper armor, complete with helmet, and class standard E-11 blaster rifle, designed exclusively for hunting down Rebel scum. Now that your likeness has been cast, your figurine is ready to serve in one of the many battalions of the Galactic Empire.
The Empire wants YOU!
Product Information
Manufacturer:
Disney
Year:
2013
Original Retail:
$99.95
Edition Size:
Made to order
What's In The Box?
D-Tech Me Stormtrooper Custom Figurine
Points Of Interest
Available only during Star Wars Weekends 2013 inside Darth's Mall at Disney's Hollywood Studios
This is the second custom Star Wars figurine that Disney has offered where fans could use their own likeness. The other was the Carbon Freeze Me available during Star Wars Weekends 2012 & 2013 as well as Star Wars Celebration VI
With each purchase, customers received an exclusive Stormtrooper button that says "The Empire Wants You!" (see image in gallery)
The male statue weighs 7.3 ounces and stands 7 ½ inches tall while the female statue weighs 5.9 ounces and stands the same 7 ½ inches tall
One major difference in the two statues: The male version comes with a blaster holster while the female version does not
Each Stormtrooper figurine cost $99.95 (plus tax & shipping). Customers could order additional figurines using the same image scan for $74.95 each
The bottom of each figurine features the date that the statue was purchased and the queue number for that particular day
Each figurine took 7-8 weeks to arrive after the initial order at the park
Text & Photography by Chris Wyman
Page Built by Adam Lamping
comments powered by

Disqus