DISNEY WORLD DROID FACTORY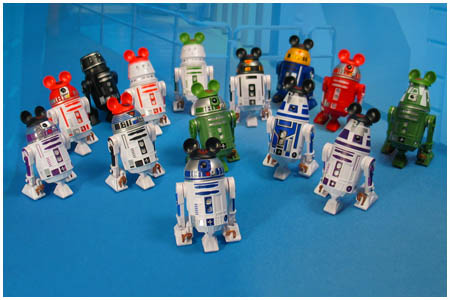 Special Photo Archive With Creator Interview
The Droid Factory counter is about eight feet wide and about two feet deep with two part stations on either side allowing more than one person to enjoy it at once. With all six parts laid out, you could completely build a single Astromech droid in 10-15 seconds easily. However, you'll have to work diligently to find the pieces you require by sifting through three rows of six bins filled with droid parts. While the parts are separated by type, all of the colors are mixed together which is reminiscent of digging through the LEGO box trying to find that one piece you need to finish your build. The process of building a complete Astromech droid is as follows: Choose your dome, choose your body, choose your right and left legs (power cables forward, kids!), choose your middle leg and finally, choose your hat. One word of caution when putting your droid together: It's not a good idea to force the middle leg into place. It only goes in correctly one way and if you push too hard, you could weaken the plastic and actually snap it in two, so take care when you are assembling this piece.
Each droid you complete is placed inside a protective clamshell case for safe keeping, but can be removed at any time without having to break the plastic or tear the card which is nice for carded collectors or for people that want to dismantle their droid and build it again. You have your choice of a single carded pack for $11.95 or a double carded pack for $18.95. Each droid comes with a sheet of letters and numbers so you can name your creation. There is a blank area towards the top of the card for these stickers to be applied.

What's In The Single Or Double Packs?
Text by Chris Wyman

Photography by D. Martin Myatt

Page Built by Adam Lamping