DRYDEN VOS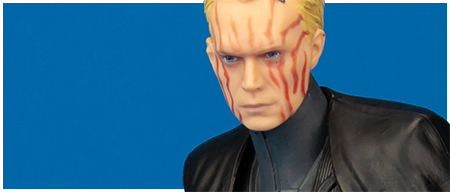 The Black Series
The public face of the Crimson Dawn crime syndicate, Dryden Vos is a contradiction; a pitiless enforcer known as a gangster of wealth and taste. His good manners shouldn't be mistaken for weakness, though; he can change from generous host to ruthless killer in a moment.
The Dryden Vos figure featured on this page was released as part of the twentieth wave of The Black Series 2019 assortment. Officially revealed at the 2018 Fan Expo Canada, Dryden Vos is a sculpt debut and includes 2 Kyuzo Petars, and a removable plastic cloak. Dryden Vos has an unannounced color-change feature. Cold temperatures will reveal deep red lines on his face, as seen in the film when he gets angry. Dryden Vos began shipping in February 2019 along with the Battle Droid, Padmé Amidala, Vice Admiral Holdo, Mace Windu, and Han Solo (Mimban) action figures.

Product Information
Manufacturer:
Hasbro
Source:
Solo: A Star Wars Story
Year:
2019
Original Retail:
$19.99
Product Number:
E4070/B3834
UPC Number:
6 30509 77689 4
What's In The Box?
Dryden Vos Action Figure
Cloak
2x Kyuzo Petar Blades
Photography by D. Martin Myatt
Text by B. Acree
Page built by Adam Lamping
comments powered by

Disqus