ELITE PRAETORIAN GUARD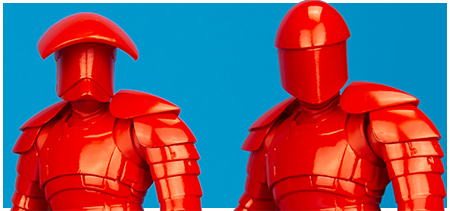 ARTFX+ Two Pack
Kotobukiya announced the production of The Last Jedi Elite Praetorian Guard ARTFX+1/10th scale pre-painted model kit statue two pack featured on this page on January 23, 2018. The set, which comes with every conceivable part needed to create all eight of Supreme Leader Snoke's security force, began hitting shelves in North America the following July.

Product Information
Manufacturer:
Kotobukiya
Year:
2018
Original Retail:
$139.99
Product SKU:
SW140
UPC:
1 90526 01063 5
Included in the box:
2x Legs
2x Torso
2x Left Arm
2x Right Arm
3x Head
4x Left Hand
Electro-Bisento
Vibro-Voulge
Vibro-Arbir Blades (Split)
Vibro-Arbir Blades (Connected)
Electro-Chain Whip (Whip)
Electro-Chain Whip (Bludgeon)
2x Display Bases
Instructions
Original solicitation text:
Star Wars ARTFX+ Statues bring you all of the quality and detailing that you expect from an ARTFX release in a great smaller scale perfect for collecting! The series has already brought you amazing heroes, villains, and troopers from the classic trilogy and beyond, and now you can collect characters from Star Wars Episode VIII: The Last Jedi.
Following up after the First Order Stormtrooper Executioner is a troop builder pack of Supreme Leader Snoke's bodyguards in the ELITE PRAETORIAN GUARD 2-PACK! In the tradition of previous robed guardians like the Senate Guard andEmperor Palpatine's Royal Guards, the Praetorians are highly skilled fighters trained to a superhuman level. These red armored guards focus specifically on melee combat, and they utilize various weapons which they brought to bear against Kylo Ren and Rey in the latest film. The ARTFX+ Praetorian Guards are clad in their ornate bright red armor and robes and come with a dazzling array of interchangeable parts for you to customize their look and your display. The two figures come with three types of helmeted heads, two styles of arms, and no fewer than six types of melee weapons (including different weapon configurations)!
ARTFX+ Statues are fun-to-assemble pre-painted snap-fit kits that can be put together easily in seconds without glue or modeling skill. The Elite Praetorian Guards stand over 7 inches tall (1/10th scale), and magnets in their feet provide perfect stability on the included metal display bases. Collect multiple sets to form your entire eight-man Guard force, and display them alongside other great The Last Jedi ARTFX+ Statues from Kotobukiya!
Text & Photography by D. Martin Myatt
Page Built by Adam Lamping
comments powered by

Disqus