EMPEROR PALPATINE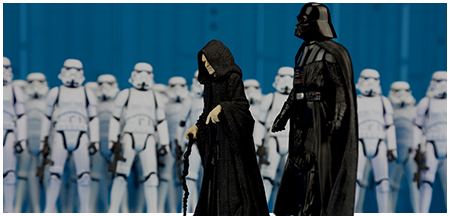 The Last Jedi Star Wars Universe Action Figure
The Emperor Palpatine featured on this page was originally planned to be part of the final assortment of action figures in The Last Jedi branded Star Wars Universe collection, along with C'ai Threnalli and First Order Flametrooper figures. The wave didn't get released in the traditional manner. The C'ai Threnalli was released in Canada in February, 2018, and the Emperor Palpatine was found in Europe on a multiple language card. The Flametrooper and C'ai Threnalli found U.S. release as internet releases, but at the time of publication, the actual Emperor Palpatine figure on this page is the only one documented on a North American Card. It was found In August, 2018 at an independent toy store in Vancouver, British Columbia. We have little doubt that more will come up, but at this point no one can predict how scarce this figure will be as time passes.

Product Information
Manufacturer:
Hasbro
Source:
Star Wars Episode VI: Return Of The Jedi
Year:
2018
Original Retail Price:
$14.99 CND
Assortment Number:
E0522/C1503
SKU:
6 30509 62313 6
What's In The Box?
Emperor Palpatine Action Figure
Removable Robe
1x Regular Hands
1x Force-Lightning Hands
Cane
ForceLink 2.0 Instruction Sheet
Photography & Text by D. Martin Myatt
Page built by Adam Lamping
comments powered by

Disqus