ENAMEL PIN BLIND BOX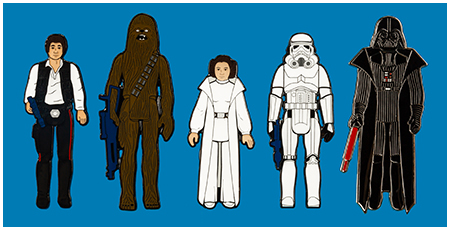 2018 Convention Exclusive
The first five 3.75-inch classic Kenner Enamel Pins were made available to collectors attending the 2018 San Diego Comic-Con in blind boxes that revealed Han Solo (small head), Chewbacca, Stormtrooper, Darth Vader and a mystery character that turned out to be Princess Leia Organa.
We're still scratching our heads about these being blind boxed. They clearly should have been on Kenner-style cards. Hopefully future assortments will do away with silly blind box in favor of card art.
At any rate, this assortment was announced on July 11, 2018, and were offered to collectors who hit the Gentle Giant Ltd booth at the 2018 San Diego Comic-Con.

Product Information
Manufacturer:
Gentle Giant Ltd
Collection:
Enamel Pins
Year:
2018
Original Retail:
$20.00
Item Number:
N/A
UPC Number:
N/A
What's In The Box?
One of Five random Enamel Pins (Please no more blind boxes!)
Text & Photography by D. Martin Myatt
Page built by Adam Lamping
comments powered by

Disqus