ENFYS NEST SWOOP BIKE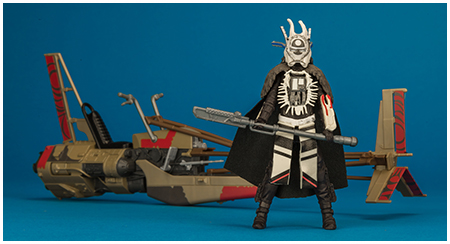 Solo - Star Wars Universe Action Figure Two Pack
The Cloud-Rider gang led by Enfys Nest terrorizes the skies atop their mean-looking swoop bikes. Little more than engines with seats, swoops are hard to control but capable of incredible speed.
Enfys Nestís Swoop Bike, along with the Wampa & Luke Skywalker (Hoth) and Rathtar & Bala-Tik, were shipped together as the first Class A boxed sets released in the Solo: A Star Wars Story branded Star Wars Universe 3.75-inch action figure collection. The assortment had a street release set for April 13, 2018 as part of the Solo product roll out, however many retailers disregarded the warnings on the shipping boxes and released their inventory as early as a month before slated release. This set features the character debut of the feature film villain. She sports a fabric cape and comes equipped with menacing vibrolance that attaches to her Swoop bike when she isnít using it to make a wet mess of her enemies.

Product Information
Manufacturer:
Hasbro
Source:
Solo: A Star Wars Story
Year:
2018
Original Retail Price:
$19.99
Assortment Number:
E1206/E0325
SKU:
6 30509 61608 4
What's In The Box?
Enfys Nest Action Figure
Swoop Bike
Vibrolance
Force Link 2.0 Instruction Sheet
Photography & Text by D. Martin Myatt
Page built by Adam Lamping
comments powered by

Disqus