ASTROMECHS SIX PACK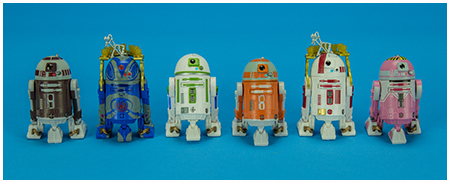 2016 Entertainment Earth Exclusive
Revealed in the Hasbro booth at the
2016 San Diego Comic-Con
, Entertainment Earth's Astromech six pack offered six debut droids in a distinctive display box. The figures featured on this page are early samples of the set slated for a November, 2016 release. The numbers stamped on the domes of these droids aren't present on the final release versions.
QT-KT - THE CLONE WARS
R7-D4 - THE CLONE WARS
R2-A5 - A NEW HOPE
R2-C2 - THE CLONE WARS
R7-F5 - THE CLONE WARS
JABBA'S BARTENDER - RETURN OF THE JEDI

Product Information
Manufacturer:
Hasbro
Year:
2016
Original Retail:
$79.99
Product Number:
B8671
UPC Number:
6 30509 49422 4
What's In The Box?
QT-KT Action Figure
Sensor Scope
R7-D4 Action Figure
Sensor Scope
R2-A5 Action Figure
Sensor Scope
R2-C2 Action Figure
Sensor Scope
7x Drinking Glasses
Serving Arm
Serving Tray
R7-F5 Action Figure
Sensor Scope
Jabba's Bartender Action Figure
Sensor Scope
7x Drinking Glasses
Serving Arm
Serving Tray
Text & Photography by D. Martin Myatt
Page Built by Adam Lamping
comments powered by

Disqus