FIRST ORDER SPECIAL FORCES TIE FIGHTER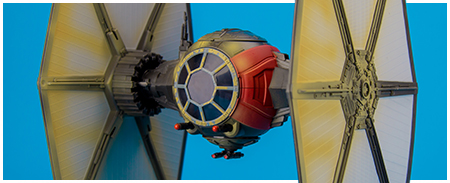 Epic Battles: The Force Awakens
The elite of the First Order starfighter pilots have access to specialized craft, such as two-seater TIE craft outfitted with enhanced weapons and sponsor systems.
The Toys "R" Us exclusive Epic Battles First Order Special Forces TIE Fighter is essentially the same as the regular release if not for its desert sand overspray deco. This version began showing up in October, 2015.

Product Information
Manufacturer:
Hasbro
Source:
Star Wars: The Force Awakens
Year:
2015
Original Retail Price:
$42.99
SKU:
6 30509 36896 9
Item Number:
B4014
What's In The Box?
First Order Special Forces TIE Fighter Vehicle (six pieces)
2x Projectiles
First Order TIE Fighter Pilot Action Figure
Helmet
Blaster
Instruction Sheet
Text & Photography by D. Martin Myatt
Page Built by Adam Lamping
comments powered by

Disqus