SERGEANT JYN ERSO (EADU), CAPTAIN CASSIAN ANDOR (EADU), & K-2SO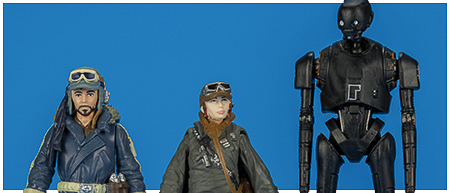 Walmart Exclusive Rogue One 3-Pack
A highly skilled soldier in the Rebel Alliance, Sergeant Jyn Erso is an impetuous, defiant warrior eager to bring the battle to the Empire. Jyn has little patience for debate within Alliance high command, enough so that she takes matters into her own hands.
An accomplished Alliance Intelligence officer with combat field experience, Captain Cassian Andor commands respect from his Rebel troops with his ability to keep a cool head under fire and complete his missions with minimal resources.
A reprogrammed Imperial security droid now loyal to the Alliance, K-2SO is an alarming sight standing within a secret Rebel base. The pragmatic droid is an effective insertion agent as he can blend in perfectly at Imperial installations and outposts.
This Walmart exclusive action figure three pack began hitting shelves in the U.S.A. November, 2016. The packaging alone makes this set unique, as the action figures included in it are repacks of the figures released in the Rogue One single carded action figure collection.

Product Information
Manufacturer:
Hasbro
Collection:
Rogue One
Year:
2016
Original Retail:
$19.99
Assortment Number:
C0062
UPC Number:
6 30509 49641 9
What's In The Box?
Sergeant Jyn Erso (Eadu)
Blaster Pistol
Captain Cassian Andor (Eadu)
Blaster Pistol
K-2SO
StudioFX Pamphlet
Text & Photography by D. Martin Myatt
Page Built by Adam Lamping
comments powered by

Disqus