FIRST ORDER STORMTROOPER EXECUTIONER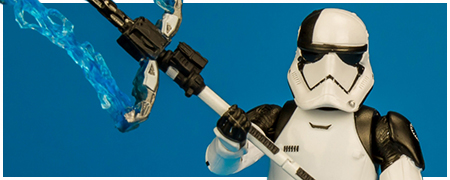 The Black Series
The First Order can only operate effectively with the absolute loyalty of its followers. Should any soldier be found guilty of treason, it is up to this special branch of Stormtroopers to dispense final justice.
The ninth wave in The Black Series 3.75-inch action figure collection sold exclusively at Walmart hit the shelves on September 1st, 2017 as part of Lucasfilm's Force Friday II event. The assortment comprised of four action figures from The Last Jedi included the First Order Stormtrooper Executioner seen on this page, Luke Skywalker (Jedi Master), Elite Praetorian Guard, and Resistance Tech Rose

Product Information
Manufacturer:
Hasbro
Source:
The Last Jedi
Year:
2017
Original Retail Price:
$12.99
Assortment Number:
C3783/B40544
SKU:
6 30509 60396 1
What's In The Box?
First Order Stormtrooper Executioner Action Figure
Laser Ax
Photography & Text by D. Martin Myatt
Page built by Adam Lamping
comments powered by

Disqus