FIRST ORDER STORMTROOPER ROBOT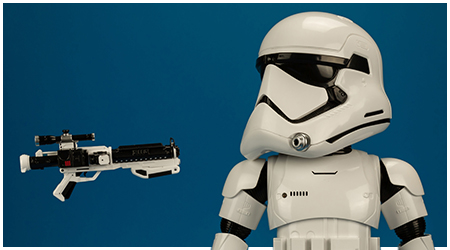 With Companion App
Welcome to the First Order
Introducing the First Order Stormtrooper Robot with companion app. Featuring a cutting-edge AR app experience, voice command, facial recognition, and sentry patrolling capabilities.
Initially announced on October 3rd, 2017, pre-orders for UBTECH's First Order Stormtrooper Robot went up the same day, and began shipping on December 20 that year. Initially priced at $299.99, it went on sale for $149.99 ahead of 2018's holiday season.

Product Information
Manufacturer:
UBTECH
Source:
Star Wars VI: The Force Awakens
Year:
2018
Original Retail:
$299.99
UPC Number:
8 58119 00703 4
What's In The Box?
First Order Stormtrooper Robot
Power cable
Adapter
Legal Guide
About This Toy
Facial Recognition - customize interactions by storing up to four faces using facial biometrics
Voice Commands - Issue orders by speaking directly to your First Order Stormtrooper Robot
Augmented Reality - Protect the First Order with a fully immersive app experience with both first and third person views
Mission Mode - Command your First Order Stormtrooper Robot to carry out pre-selected missions or build your own in the companion app. Use the included blaster in mission model to achieve success
Sentry Mode - Order your First Order Stormtrooper Robot to patrol a designated area of your home
Camera Function - Inspect and protect the region with first-person views through the built-in camera on the First Order Stormtrooper Robot's helmet
Accelerometer & Gyroscope - Built-in accelerometer & gyroscope to ensure your First Order Stormtrooper Robot is always ready to implement orders in any direction
Infrared Sensor - The infrared sensor allows your First Order Stormtrooper Robot to navigate teep drops while patroling the area
Triple Array Microphone - Command your First Order Stormtrooper Robot from any direction with three microphone arrays for maximum implementation of its direct order
Photography by D. Martin Myatt
Text by Adam Lamping
comments powered by

Disqus