MOMAW NADON (HAMMERHEAD)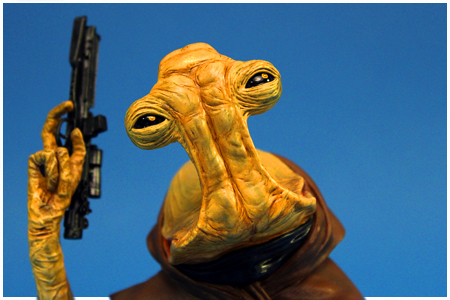 Collectible Mini Bust
From Star Wars: A New Hope; Hammerhead or Momaw Nadon as he was known by his peers. Nadon was a frequent patron of the Mos Eisley creature cantina who often aided Rebel operatives on the desert planet Tatooine. This gentle Ithorian was a surprisingly peaceful being sitting in a darkened booth that fateful day that Luke Skywalker wandered in.

Expertly sculpted with blaster at the ready and cast in high quality poly stone. Hammerhead measures 7.5 inches to the top of his head. This limited edition mini-bust is hand numbered and comes packaged with a matching certificate of authenticity.

Product Information
Year:
2011
Original Retail:
$64.99
Edition Size:
1,500
Item Number:
11628
UPC Number:
8 71810 00827 8
Points of Interest
This bust comes as one solid piece with no accessories
Along with Greedo, Figrin D'an, Kabe & Muftak, this marks the fifth Mos Eisley Cantina alien Mini-Bust by Gentle Giant to date.
Photography by Chris Wyman
Edited by D. Martin Myatt