GARAZEB ORRELIOS & C1-10P "CHOPPER"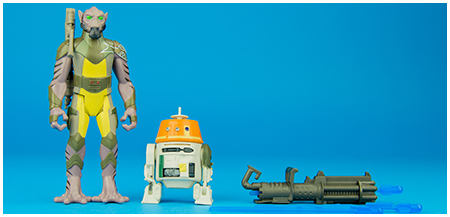 The Force Awakens Mission Series
The repacked Rebels Garazeb Orrelios & C1-10P "Chopper" multipack was released on September 4th, 2015 as part of the Star Wars Force Friday event. It was one of the seven multi-figure boxed sets released around the world as multiple companies launched their product lines based on The Force Awakens. This first assortment also included sculpt debuts of The Force Awakens BB-8, Unkar's Thug, and Jakku Scavenger, the Rebels Darth Vader & Ahsoka Tano, and repaint / repack The Force Awakens R2-D2 & C-3PO, as well as repacked sets featuring the previously released Revenge Of The Sith Clone Commander Cody & Obi-Wan Kenobi, A New Hope Han Solo & Princess Leia, Revenge Of The Sith Anakin Skywalker & Yoda, and Rebels Garazeb Orrelios & C1-10P "Chopper". All seven sets were released in vibrant unique character-specific shadow box boxes.
GARAZEB ORRELIOS
One of the last Lasats in the galaxy, this burly brawler is capable of taking down a squad of Stormtroopers with his bare hands.
C1-10P "CHOPPER"
The loyal astromech droid of Captain Hera Syndulla, "Chopper" keeps the Ghost in fighting shape during its encounters with the Empire.

Product Information
Manufacturer:
Hasbro
Year:
2015
Original Retail:
$14.99
Product Number:
B3962/B3955
UPC Number:
6 30509 34933 3
What's In The Box?
Garazeb Orrelios Action Figure
AB-75 Bo-Rifle
C1-10P "Chopper" Action Figure
Net-Firing Maga-launcher
####
####
About This Set
Text & Photography by D. Martin Myatt
Page Built by Adam Lamping
comments powered by

Disqus