GENERAL GRIEVOUS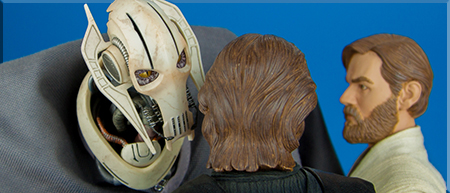 Revenge Of The Sith Sixth-Scale Figure
Having this figure in our photo studio is a victory. Back in the months following Sideshow Collectibles' announcement that they were going to develop a 1/6 scale line, they told us we'd never see this figure. Despite their claims we never lost hope and when it was finally revealed in their booth at the 2011 San Diego Comic-Con there was little doubt that we were in for one heck of a great figure!
This figure went up for pre-order on July 31, 2013 and began shipping in March 2014.

Product Information
Manufacturer:
Sideshow Collectibles
Collection:
Sixth Scale Figures
Source:
Revenge Of The Sith
Year:
2014
First Revealed:
July 20, 2011 - San Diego Comic-Con
Pre-Order Date:
July 31, 2013
Ship Date:
March 2014
Original Retail:
$249.99
Regular Edition Number:
100027
Exclusive Edition Number:
1000271
What's In The Box?
Fully Articulated legs, arms, neck, torso
Fabric Cape with, clasp, lightsaber hilt pockets and detailed lining
Swap out Left & Right Fused Arms
Swap out Left & Right Split Arms
4x Unique ignited Lightsabers
4x Matching Unique ignited Lightsaber Hilts
DT-57 "Annihilator" Heavy Blaster Pistol
Electro Staff with removable energy clusters
Display Base with pivoting figure support stand
Exclusive Accessory
Battle Damaged mask for alternate display
Text & Photography by D. Martin Myatt
Page Built by Adam Lamping
comments powered by

Disqus