AURRA SING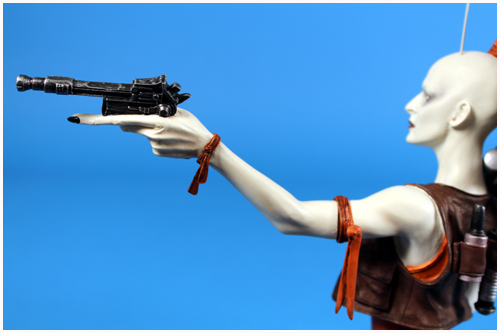 Mini Bust
Aurra Sing was a former Jedi Padawan who turned rogue bounty hunter and specialized in Jedi and political assassinations. She was also known to fraternize with the notorious Cad Bane and his posse of scoundrels.

Product Information
Manufacturer:
Gentle Giant Ltd.
Collection:
Mini Bust
Source:
Star Wars: The Phantom Menace
Year:
2012
First Revealed:
San Diego Comic Con 2010
Pre-Order Date:
November 2010
Ship Date:
February 2012
Original Retail:
$75.00
Edition Size:
1,800 Pieces
Item Number:
80056
UPC:
8 71810 00816 2
Included in the box:
Aurra Sing Mini Bust
Left hand with dual-trigger blaster pistol
Right hand
Czerka Adventurer slugthrower rifle
Certificate of Authenticity
Points of Interest:
This bust features a 12.5" long rifle that lays on the right shoulder and is held in place by the right hand which is also a separate piece and must be attached once the rifle has been placed behind the back
Of all the Mini Busts produced by Gentle Giant, this piece is among the largest in regards to the amount of space it takes up from top to bottom and side to side which is roughly 10" x 10"
Photography, Text & Page by Chris Wyman