DROOPY MCCOOL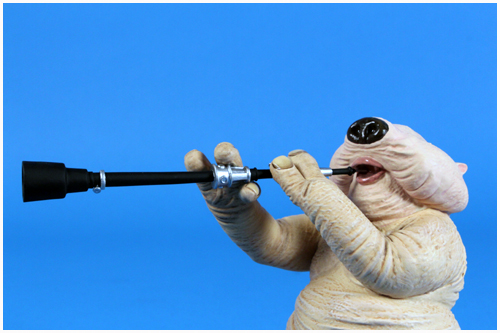 Mini Bust
Droopy McCool was the Kitonak member of the Max Rebo Band. He played a flute made from hollow chidinkalu plant from his home planet of Kirdo III. Witnessing the downfall of Jabba the Hutt firsthand, Droopy McCool is one of the few survivors of the ill-fated execution attempt on Luke Skywalker at the Pit of Carkoon.

Product Information
Manufacturer:
Gentle Giant
Collection:
Mini Bust
Source:
Star Wars: Return Of The Jedi
Year:
2013
First Revealed:
San Diego Comic Con - July 2012
Pre-Order Date:
September 2012
Ship Date:
August 2013
Original Retail:
$70.00
Edition Size:
900 Pieces
Item Number:
80207
UPC Number:
8 71810 00960 2
What's In The Box?
Droopy McCool Mini Bust
Certificate of Authenticity
Points Of Interest
Gentle Giant placed an edition number/size sticker on the top of the styrofoam shell which is in addition to the usual sticker on the bottom of the box.
In 2013, with the inclusion of Max Rebo, Sy Snootles & Droopy McCool, the complete Max Rebo Band was released in Mini Bust format
Text & Photography by Chris Wyman
Page Built by Adam Lamping
comments powered by

Disqus