JEK PORKINS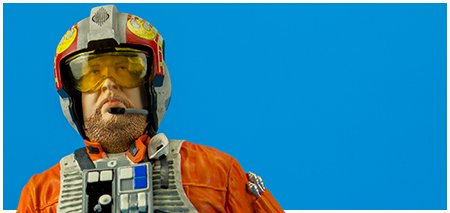 Mini Bust (2014 San Diego Comic-Con Exclusive)
Jek Porkins flew as Red Six in the Rebel Alliance's Red Squadron. Based on Yavin 4, Porkins, along with Biggs Darklighter, Wedge Antilles, and Luke Skywalker, was a part of the Rebel mission to destroy the Imperial Death Star. However, when his X-Wing star fighter was damaged during the assault and suffered mechanical and computer malfunctions, Porkins was hit by enemy fire and killed.
Gentle Giant announced their San Diego Comic-Con exclusive Jek Porkins Collectible mini Bust on June 27, 2014. It saw an edition size limited to only 1,000 pieces.

Product Information
Manufacturer:
Gentle Giant
Collection:
Mini Bust
Source:
Star Wars: A New Hope
Year:
2014
First Revealed:
June 2014
Pre-Order Date:
June 2014
Ship Date:
July 2014
Original Retail:
$85.00
Edition Size:
1,000 Pieces
Item Number:
80389
UPC Number:
8 71810 01086 8
What's In The Box?
Jek Porkins Mini Bust
Translucent Yellow goggles
Certificate of Authenticity
Did You Know?
William Hootkins, the actor who played Jek Porkins, was an absolutely wonderful man who had a great career in cinema that saw him impact many of the feature film franchises we all hold dear such as Star Wars ('natch), Raiders Of The Lost Ark, Tim Burton's Batman, and Flash Gordon in supporting rolls. Hootkins died in 2005 and has been missed by all that knew him ever since.
Photography & Text by D.Martin Myatt
Page Built by Adam Lamping
comments powered by

Disqus