LEIA (HOTH OUTFIT)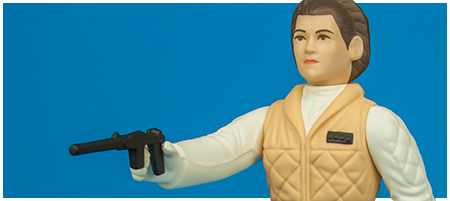 Jumbo Kenner Action Figure
First revealed in December, 2013, Gentle Giant Ltd's is certainly one of the best figures produced in their Jumbo Kenner line. The vinyl and paint applications are a nice match to the classic Kenner Leia (Hoth Outfit) action figure from 1980. This figure rounds out the Hoth hero trinity in the Jumbo Kenner collection. The Leia (Hoth Outfit) Jumbo Kenner figure comes with a black Princess Blaster*

Product Information
Manufacturer:
Gentle Giant Ltd.
Collection:
Jumbo Kenner Action Figure
Source:
Star Wars: The Empire Strikes Back
Year:
2014
First Revealed:
December 2013
Pre-Order Date:
December 18, 2013
Ship Date:
Q4 2014
Original Retail:
$80.00
Edition Size:
Limited Edition
Item Number:
80416
UPC Number:
8 71810 01048 6
What's In The Box?
Leia Hoth Outfit Jumbo Kenner Action Figure
Black Princess Blaster*
History Lesson:
Kenner produced the original Princess Blaster in blue/black and blue plastic only. The Kenner Leia (Hoth Outfit) action figure from 1980 was packed with the blue version.
Photography & Text by D.Martin Myatt
Page Built by Adam Lamping
comments powered by

Disqus