YODA (HOLIDAY EDITION)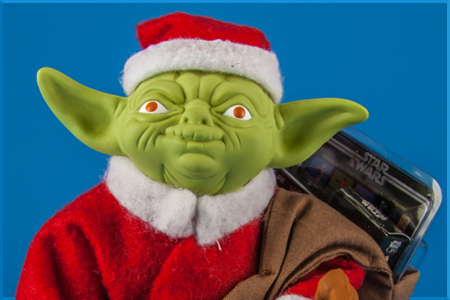 2013 Premier Guild Exclusive Jumbo Kenner Figure
Revealed and up for pre-order for Premier Guild Members on July 12th, 2013, Gentle Giant Ltd's Yoda (Holiday Edition) figure was the Jumbo Kenner collection's first step away from items released in the classic Kenner collection. This unique Ralph McQuarrie inspired holiday gift features Yoda dressed up as Santa and comes with a sack full of miniature Gentle Giant Star Wars gifts including the fully articulated mini Boba Fett Jumbo figure!
This isn't the first collectible based on the 1981 Lucasfilm Christmas card, but it certainly is the coolest one we've ever seen! Gentle Giant Ltd's Premier Guild Yoda (Holiday Edition) Jumbo Kenner figure is a must have for every Star Wars collection.

Product Information
Manufacturer:
Gentle Giant Ltd
Collection:
Jumbo Kenner Figure
Source:
1981 Lucasfilm Christmas Card
Year:
2013
Original Retail:
$80.00
Edition Size:
TBA
Item Number:
80384
UPC Number:
8 71810 01036 3
What's In The Box?
Yoda Jumbo figure
Cut & Sew Santa Coat
Cut & Sew Santa Hat
Belt
Cut & Sew Santa Sack
Mini Han Solo Statue Box
Mini ReeYees Mini Bust Box
Mini C-3PO Mini Bust Box
Mini Boba Fett Jumbo figure
Cane
About This Toy
Though very similar to the orange snake version of their Jumbo Yoda, the Holiday Edition Yoda's colorway is slightly different.
The Mini Boba Fett Jumbo figure is a pint-sized (perfectly scaled) recreation of the 12-inch figure. The clamshell package functions the same as the full-sized Jumbo figure packaging. The figure is in an inner shell and features all five classic Kenner points of articulation.
Text & Photography by D. Martin Myatt
comments powered by

Disqus