DARTH MAUL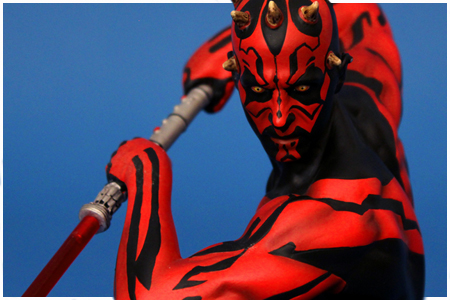 2011 Premier Guild Members Exclusive Mini Bust
Originally a Zabrak from the planet Iridonia, Darth Maul abandoned all traces of his former identity when he took on his Sith name and became a deadly disciple of the evil Darth Sidious. His devotion to the dark side was so extreme that he underwent the application of the detailed Sith tattoos to his entire body.
Darth Maulís primary weapon is a double-bladed Sith Lightsaber. It can be selectively used with only one end ignited. Customized controls increase its lethality and allow each bladeís length to extend from half a meter to one-and-a-half meters.
This highly-detailed mini bust, based on the original Lucasfilm costumes and props, was sculpted and painted by Gentle Giant Ltd.

Product Information
Manufacturer:
Gentle Giant Ltd.
Year:
2011
Original Retail:
$60.00
Production Run:
1,250 Pieces
Item Number:
80147
UPC Number:
8 71810 00853 7
About This Set
This is the third Mini Bust version of Darth Maul that Gentle Giant has produced.
This piece comes packed with two detachable lightsaber blades.
Darth Maul is one of the two Star Wars Mini Busts offered as a free gift to Premier Guild Members in 2011 with the other being the Imperial Storm Commando.
Text & Photography by Chris Wyman