KIT FISTO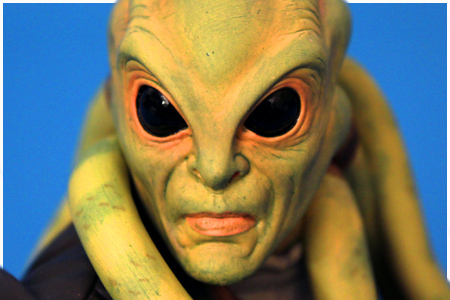 Mini Bust
Kit Fisto was part of the Jedi taskforce assembled to rescue captives from the Separatist stronghold on Geonosis. The Master Nautolan fought well against the Geonosisan battle droid forces, being one of the few Jedi to survive the extended melee within the carved walls of the execution arena.
This highly-detailed mini bust, based on the original Lucasfilm costumes and props, was sculpted and painted by Gentle Giant Ltd.

Product Information
Manufacturer:
Gentle Giant Ltd.
Year:
2011
Original Retail:
$65.00
Production Run:
1,550 Pieces
Item Number:
80060
UPC Number:
8 71810 00847 6
About This mini Bust
This is the first time Kit Fisto has received the Mini Bust treatment. The only other Kit Fisto product from Gentle Giant to date is The Clone Wars animated style Maquette.
This Mini Bust comes packed as two pieces with the lightsaber blade removable for safe transport.
Text & Photography by Chris Wyman