LOGRAY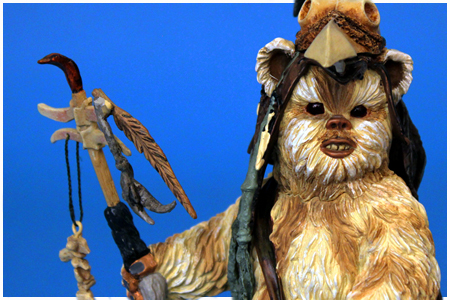 Ewok Medicine Man Mini Bust
Logray was the head shaman for the Ewok tribe. Taller than most Ewoks, Logray had tan striped fur and wore a headdress decorated with feathers, beads, and a large bird skull. The top of the staff he carried featured the spinal bones of a defeated enemy. Logray, along with Wicket and the rest of the Ewok tribe, helped the Rebel Alliance defeat the Galactic Empire during the Battle of Endor.
This highly-detailed mini bust, based on the original Lucasfilm costumes and props, was sculpted and painted by Gentle Giant Ltd.

Product Information
Manufacturer:
Gentle Giant Ltd.
Year:
2011
Original Retail:
$75.00
Production Run:
1,400 Pieces
Item Number:
80152
UPC Number:
8 71810 00869 8
About This Set
This is only the second Ewok Mini Bust that Gentle Giant has produced to date with the other being Wicket W. Warrick.
This Mini Bust comes packed as two pieces with the top of the staff removable for safe packing.
Text & Photography by Chris Wyman