HAN SOLO'S LANDSPEEDER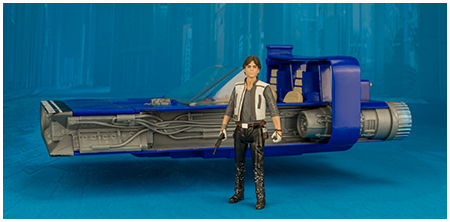 Star Wars Universe Vehicle
Han is cagey about where he scored this overpowered M-68 land speeder, saying little beyond that its previous owner no longer has need for it. The M-68 is a design from the ancient Core World of Corellia, now a principal starship production facility for the Galactic Empire.
Released as part of the first assortment of Solo: A Star Wars Story branded Star Wars Universe products, the Han Solo's Landspeeder seen on this page is a product debut. It features an exclusive Han Solo (Corellia) action figure and an impact-activated ejection seat. This vehicle shipped with a ForceLink 2.0 rerelease of The Last Jedi Resistance A-Wing Fighter. It had an April 13, 2018 release date, which many retail outlets chose to ignore allowing many collectors to purchase it as early as mid-March.

Product Information
Manufacturer:
Hasbro
Source:
Solo: A Star Wars Story
Year:
2018
Original Retail Price:
$29.99
Assortment Number:
E1263/E0326
SKU:
6 30509 60976 5
What's In The Box?
Han Solo (Corellia) Action Figure
Hold Out Blaster
M-68 Landspeeder (2 pieces)
Instructions
Photography & Text by D. Martin Myatt
comments powered by

Disqus