JABBA THE HUTT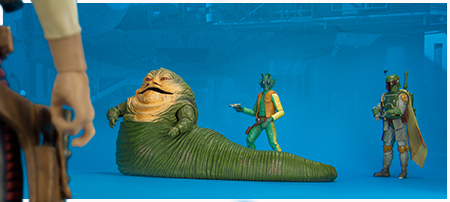 6-Inch Set
Luke Skywalker tries to use a Jedi mind trick on Jabba the Hutt to make the crime lord release Han Solo and Chewbacca, but the Hutt is unaffected by Skywalker's Force powers."Ya ku kacka ka pound ni sa. Ee?" Translation: "Your mind powers will not work on me, boy."
Displayed in their showroom at the 2014 International Toy Fair, the first wave of Hasbro's The Black Series deluxe 6-inch line included Jabba the Hutt, shown here, and the Speeder Bike with Scout Trooper. Both sets began hitting shelves the following September.
U.S. Product Packaging
North American Tri-Logo Product Packaging

Product Information
Manufacturer:
Hasbro
Year:
2014
Original Retail:
$39.99
Product Number:
A7809/A7808
UPC Number:
6 53569 94424 9
What's In The Box?
Jabba the Hutt Action Figure
About This Set
The mouth on this figure can be opened and closed by raising or lowering its arms.
The deluxe 6-inch Jabba the Hutt is a repack of the 2014 San Diego Comic-Con exclusive Jabba's Throne Room, this time without the Salacious Crumb figure and Side Rail with Hooka Pipe.
Text & Photography by D. Martin Myatt
Audio Edited by Jimmy McInerney
Page Built by Adam Lamping
comments powered by

Disqus