VIZAM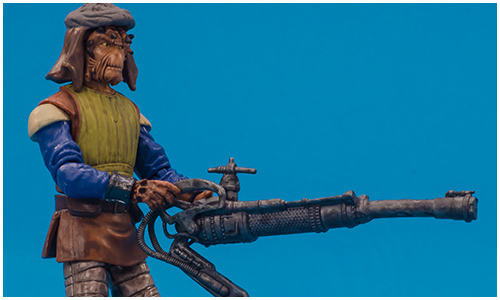 Weapons Master
Vizam works as Jabba The Hutt's Weapons Master and is on the Sail Barge during the Battle at the Pit of Carkoon.
The #17 Vizam action figure is a much needed update of the Kajain'sa'Nikto (Red Nikto) henchman first seen in
The Power Of The Force
Jabba's Skiff Guards Cinema Scene
from 1999, and subsequently in the 2004 Toys "R" Us exclusive
Skirmish At Carkoon
multipack.
This figure, along with the Wookiee commander #15 Merumeru as he appeared in
Revenge Of The Sith
, #16 Clone commander Neyo in his Phase II armor, The Sith Lord #18 Darth Plagueis the Wise as he is described in the
Expanded Universe
, and #19 Mace Windu as he appeared in
The Clone Wars
in the third wave of figures in
The Black Series
.
This wave was first revealed to the public in July 2013 as part of the display in
Hasbro's booth
at Celebration Europe II and began reaching eager collectors the following October.

Product Information
Manufacturer:
Hasbro
Year:
2013
Original Retail:
$9.99
Assortment Number:
A5251/A5077
Series Number:
#17
UPC Number:
6 53569 88640 2
What's In The Box?
Vizam Figure
Removable Headpiece
Anti-Personnel Turret
BlasTech DL-18 Blaster Pistol
About This Figure
Beyond the head and hands which were repurposed from The Vintage Collection Nikto action figure from 2012, the #17 Vizam action figure is a uniquely sculpted figure.
Vizam's Anti-Personnel Turret accessory was originally included with Nikto Gunner Nysad.
Photography by Rich Alot
Text by D. Martin Myatt and Rich Alot
Page Built by Rich Alot
comments powered by

Disqus