THE EVOLUTION OF DARTH VADER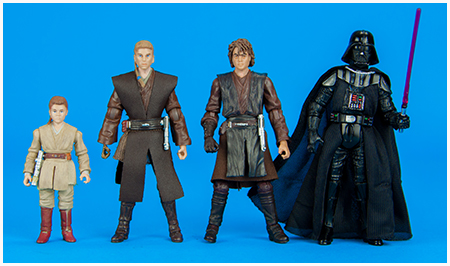 Multipack
Relive the evolution of Darth Vader from his Jedi beginnings to his fall to the dark side. As a Padawan, young Anakin Skywalker learns the ways of the Force from his master, Obi-Wan Kenobi. During the Clone Wars, he is a Jedi General and hero of the Republic. Then tragedy strikes as he falls to the dark side to become the villainous Sith Lord, Darth Vader. Re-create the exciting adventures and fateful events of this amazing character who changed the destiny of an entire galaxy!
While not on displayed in their showroom, Hasbro revealed The Evolution Of Darth Vader four pack in their press release from the 2013 International Toy Fair. The set, which repacked four figures, set the cinematic timeline from the hopeful Padawan to the Dark Lord of the Sith. This set began shipping the following November.
ANAKIN SKYWALKER YOUNG PADAWAN
ANAKIN SKYWALKER JEDI APPRENTICE
ANAKIN SKYWALKER JEDI HERO
DARTH VADER SITH LORD

Product Information
Manufacturer:
Hasbro
Year:
2014
Original Retail:
$39.99
Product Number:
A4183
UPC Number:
6 53569 87549 9
What's In The Box?
Anakin Skywalker Young Padawan Action Figure
Lightsaber
Lightsaber Hilt
Anakin Skywalker Jedi Apprentice Action Figure
Lightsaber
Lightsaber Hilt
Removable Hand
Removable Robotic Hand
Anakin Skywalker Jedi Hero Action Figure
Lightsaber
Lightsaber Hilt
Darth Vader Sith Lord Action Figure
Lightsaber
Removable Helmet (2 pieces)
About This Set
Chances are good you have all of these figures already.
Text & Photography by D. Martin Myatt
Page Built by Adam Lamping
comments powered by

Disqus