THE GHOST - REVEAL THE REBELS: JEDI REVEAL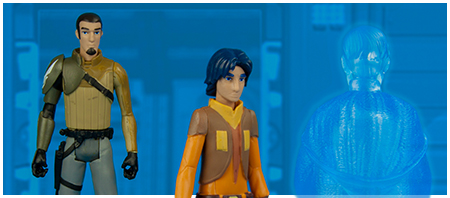 Toys "R" Us Exclusive Mission Series Multipack
Born the day the Galactic Empire was founded, Ezra Bridger has been a lone rebel for his entire life. That is, until he crosses paths with Kanan Jarrus and discovers a mysterious hologram from a Jedi named Obi-Wan Kenobi. What secret will he reveal?
Discovered on the toysrus.ca site in August, 2014, the Star Wars: Rebels Mission Series: The Ghost Reveal The Rebels: Jedi Reveal multipack (phew, that's one heck of a mouthful!) was officially revealed at the 2014 Toronto Fan Expo the month following. Within days, Hasbro released high resolution images of the three pack which includes 3 3/4-inch figures based on Star Wars: Rebels characters Kanan Jarrus, Ezra Bridger, and a set exclusive post Order 66 hologram of Obi-Wan Kenobi. Despite having a planned release to coincide with the Disney XD series premiere on October 3, 2014, there were reports of the multipack hitting some shelves in the U.S. and Canada in the weeks leading up to the release. Officially, this three pack is the first 3 3/4-inch action figure release in the line.
KANAN JARRUS
EZRA BRIDGER
EZRA BRIDGER CREST VARIATION
OBI-WAN KENOBI (SECRET EXCLUSIVE FIGURE)

Product Information
Manufacturer:
Hasbro
Year:
2014
Original Retail:
$19.99
Product Number:
B0315
UPC Number:
6 30509 26266 3
What's In The Box?
Kanan Jarrus Action Figure
Lightsaber
Ezra Bridger
Imperial Troop Helmet
Obi-Wan Kenobi (Hologram)
About This Set
Both the Kanan and Ezra action figures are [p]repacks of the five points of articulation (5POA) single carded figures from the first wave of figures in the Star Wars: Rebels line.
The Holographic Obi-Wan Kenobi figure is exclusive to this set and features a single point of articulation… a ball-jointed head.
Text & Photography by D. Martin Myatt
Page Built by Adam Lamping
comments powered by

Disqus