EWOK ASSAULT CATAPULT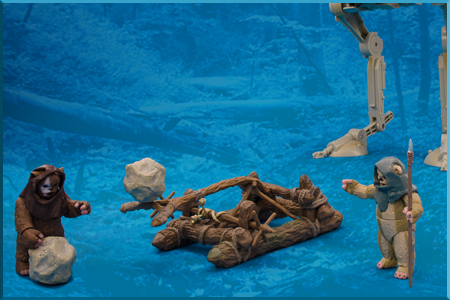 The Vintage Collection
The Ewoks help a Rebel strike team capture the shield generator that is protecting the second Death Star from attack.
While Hasbro announced the Ewok Assault Catapult in February 9th, 2013, as part of the presentation at their International Toy Fair event. There was an image shown at the event, but it wasn't included in the press release that followed the presentation, inadvertently making this Kmart exclusive set a hot topic on collecting boards.
On February 20th, 2013, we learned the names of the two Ewoks included in the pack, but there were still no images published of the actual figures. In fact, not a single image surfaced until the following June. This set hit shelves in early October 2013.

Product Information
Manufacturer:
Hasbro
Collection:
The Vintage Collection
Source:
Return Of The Jedi
Year:
2013
Original Retail:
$20.99
Item Number:
A4185
UPC Number:
6 53569 87555 0
What's In The Box?
Chubbray Action Figure
Stemzee Action Figure
2x Unique Ewok Cowls
2x Unique Spears
Catapult (2 pieces)
2x Stones
Instructions
Photography by Rich Alot
Text by D. Martin Myatt
Page Built by Adam Lamping
comments powered by

Disqus