BATTLE OF GEONOSIS (JEDI KNIGHTS)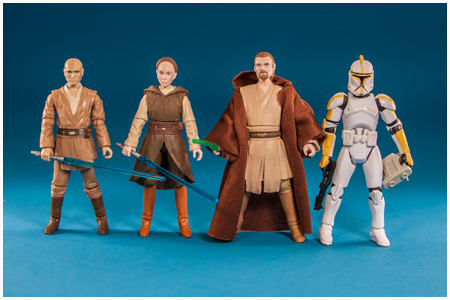 Sephjet Jpsall, Sarrissa Jeng, Roan Shryne & Clone Commander Ponds
In October of 2013 Toys "R" Us offered collectors two
Battle Of Geonosis: Jedi Knights
four figure multipacks. Both sets included three new Jedi figures along with a single clone trooper. This set featured Sephjet Jpsall, Sarrissa Jeng, Roan Shryne and Clone Commander Ponds. All the figures in this set are partially kit bashed creations, but represent debut figures.
Both of these sets were designed to accompany the Toys "R" Us exclusive Vintage Collection Republic Gunship which was released at the same time. Follow this link to
see the other Battle Of Geonosis: Jedi Knights set
.
The Jedi launch a rescue mission to Geonosis that ends in battle between the Jedi and Separatist forces. The Jedi fly to the planet to rescue Obi-Wan Kenobi, Anakin Skywalker and Padmé Amidala from the Separatists. Battle Droids and Geonosian warriors fight the Jedi in what becomes the first battle of the Clone Wars.
.

Product Information
Manufacturer:
Hasbro
Year:
2013
Original Retail:
$39.99
Assortment Number:
A5769
Placement Number:
A4967
UPC Number:
6 53569 91014 5
What's In The Box?
Sephjet Jpsall Action Figure with Blue Lightsaber
Sarrissa Jeng Action Figure with Blue Lightsaber
Roan Shryne Action Figure with Green Lightsaber and Robe
Clone Commander Ponds Action Figure with DC-15 Blaster and macrobinoculars
About This Set
Text & Photography by D. Martin Myatt
Page Built by Adam Lamping