IMPERIAL AT-DT WALKER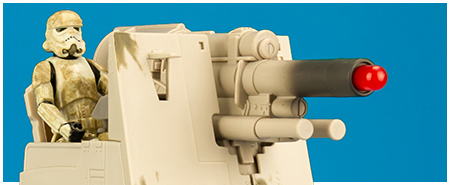 Solo: A Star Wars Story Action Figure Vehicle
Deployed on uneven battle fields with difficult terrain, the AT-DT is a single-pilot mobile artillery walker unit that uses its primary cannon to provide air defense as well as lob laser artillery into the heart of enemy lines.
First found in Mexico in June, 2018, the AT-DT vehicle featured on this page was next found in a few sporadic places in the U.S. and Canada the following month.

Product Information
Manufacturer:
Hasbro
Source:
Solo: A Star Wars Story
Year:
2018
Original Retail Price:
$29.99
Assortment Number:
E1691/E0326
SKU:
6 30509 69163 0
What's In The Box?
Imperial AT-DT Walker (5 Pieces)
Stormtrooper (Mimban) Action Figure
BlasTech E-11 Blaster Pistol
1x Projectile
ForceLink 2.0 Instruction Sheet
Photography & Text by D. Martin Myatt
Page built by Adam Lamping
comments powered by

Disqus