Words and pictures by D. Martin Myatt & Chris H.
February 18-21, 2017
The 2017 International Toy Fair gave us a look into year three of the
Star Wars
brand under Disney's command. The new films are bringing in new collectors, which helps to keep the various lines healthy and diverse, while advances in 3D printing and scanning are helping to produce some of the most accurate and realistic collectibles we've seen.
BLUFIN DISTRIBUTION
New Tamashii Nations And Bandai Hobby Goodness Displayed!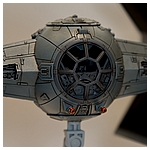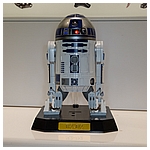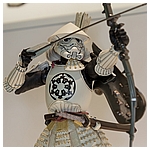 The night before the 2017 International Toy Fair began, we attended a very exclusive press event hosted by Bluefin Distribution that included a special sneak preview of all the Bandai Hobby and Tamashii Nations
Star Wars
collectibles they had on display for the industry exclusive event.
The Bandai Hobby side of the display featured nineteen pieces from the scaled
Star Wars
Plastic Model Series, which will see a variety of ships from across the eight released live action feature films including eleven 1/72 scale kits:
A New Hope
A-Wing Starfighter,
A New Hope
X-Wing Starfighter,
A New Hope
Y-Wing Starfighter,
A New Hope
TIE Advanced X1,
A New Hope
TIE Fighter,
Return Of The Jedi
Interceptor,
Rogue One
TIE Striker,
The Force Awakens
Resistance X-Wing Fighter,
The Force Awakens
Poe's X-Wing Fighter,
The Force Awakens
First Order TIE Fighter, and
The Force Awakens
First Order Special Forces TIE Fighter; three 1/48 scale kits:
The Empire Strikes Back
Snow Speeder,
Return Of The Jedi
AT-ST, and the electronic
A New Hope
X-Wing Starfighter (Moving Edition); and four 1/144 scale kits:
The Empire Strikes Back
Slave I,
The Empire Strikes Back
AT-AT,
Rogue One
U-Wing Fighter & TIE Striker, and
The Force Awakens
Millennium Falcon. All of these kits are snap-together models that do not require glue, allowing builders to focus on paint and weathering. The models featured molded bases, many of them Death Star surface tiles (the A-Wing even comes with a Death Star turbo laser tile!). In fact, you may eventually see these tiles sold separately. The level of detail on these are really impressive.
Not to be left behind by their peers, Tamashii Nations, celebrating their 10th anniversary this year, had their yet to be released Meisho Movie Realization Yumi Ashigaru Stormtrooper action figure along with some pretty terrific dioramas (that unfortunately are not included in the gallery above), and some great artwork of what we can expect to see in this line in the coming future. The line had us at "Meisho", so all we saw here left us wanting more! If the artwork shown actually gets produced as new figures, collectors can expect to see a Snowtrooper, IG-88,
Return Of The Jedi
Boba Fett, Gamorrean Guard, Shadowtrooper, Biker Scout, Darth Maul, and Queen Amidala joining this beloved line.
In addition to this, your C-3PO Perfect Model Chogokin figure from 2013 will finally be able to be displayed with his diminutive counterpart! The incredibly detailed 1/6 scale die cast Perfect Model Chogokin R2-D2 will be heading our way late summer or early fall this year. Artoo features all the articulation you'd expect, lights, a movie-accurate dome, panels that open, a retractable third leg, and, most interestingly, (removable)leg struts and Kenny Tubes! We don't believe we've seen this before in an Astromech collectible - it's a nice touch that demonstrates a deep commitment to detail.
FUNKO
Keeping Star Wars Cute Through 2017!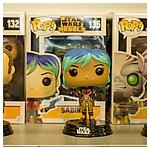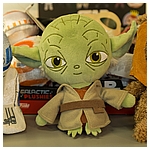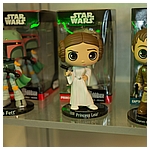 Funko displayed
Return Of The Jedi
Boba Fett,
A New Hope
Princess Leia Organa, and
Rogue One
's Captain Caspian Andor, Jyn Erso, Darth Vader, Scarif Stormtrooper (AKA: Shoretrooper), and Imperial Death Trooper from the
Star Wars
Wobblers
collection;
A New Hope
Luke Skywalker, C-3PO, R2-D2, Yoda, Wicket,
A New Hope
Han Solo,
A New Hope
Princess Leia Organa,
Return Of The Jedi
Boba Fett, Chewbacca, Darth Vader, BB-8, Maz Kanata, Finn, scavenger Rey, First Order Stormtrooper, and Kylo Ren from the
Galactic Plushies
collection;
A New Hope
Princess Leia, Yoda,
Return Of The Jedi
Boba Fett, BB-8, (Starkiller Base) Rey, (unmasked) Kylo Ren, Chewbacca, Jyn Erso, K-2SO,
Rogue One
Darth Vader, Scarif Stormtrooper (Shoretrooper), Chopper, Kanan, Sabine, Zeb, Zira, and Ezra
POP!
bobble heads; BB-8, Chewbacca, Wampa, and R2-D2
POP! Tees
T-shirt; BB-8, Rey, Darth Vader, Chewbacca, and Kylo Ren Lanyards; a series of
Rogue One
POP! Pens
; Darth Vader & Stormtrooper
POP! Home
salt and pepper shakers; and Stormtrooper, Chewbacca, BB-8, boba Fett, and Darth Vader
POP! Home
ceramic mugs.
HASBRO
The Annual Fan Media Event!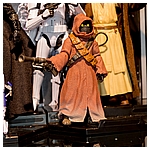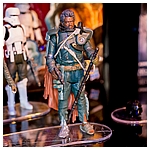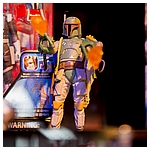 A much smaller group of online media reporters and photographers than we've seen in years past made their way over to the New York Times building for Hasbro's annual Fan Media Event. Hasbro wasn't the only place we noticed it, but it became apparent that the days where anyone with a blog or Twitter page could get in are long gone. We saw some people who attended the event in the past being turned away at the door. This certainly wasn't a bad move as it allowed more time for the invited reporters to speak with the people working on the lines.
To celebrate the 40th anniversary of
Star Wars
, Hasbro will bet releasing a series of eleven 6-inch action figures on classic Kenner style cards, along with no less than two exclusive action figures, and a special Legacy Pack display set that includes a carded Darth Vader and a reversible back drop display that pays tribute to
the original Early Bird set
sold in the fourth quarter of 1977 the first assortment of action figures in the line weren't ready until the following spring and the original mail away Display Stand offered on the card backs. Like the original set, there are spots for all twelve figures coming out at retail. The Darth Vader action figure with the set is an entirely new sculpt and based on the Sith lord's appearance in the original film.
The first wave of 40th Anniversary 6-inch action figures will include repacks of previously released figures from
The Black Series
including Artoo-Detoo (R2-D2), Han Solo, Ben (Obi-Wan) Kenobi, Luke Skywalker, and Princess Leia Organa. Hasbro made sure to point out that the Leia figure would feature an improved head sculpt, having not being happy with the way the original release turned out. Each figure in this wave appears to include all the accessories packed in with the original release, which will help collectors that missed them the first time save some money. (The secondary market price some people are asking for the R2-D2 would
make your head spin!
)
The second assortment, which is currently slated for a June release will include the previously released Chewbacca, Stormtrooper, and See-Threepio (C-3PO) figures from
The Black Series
along with band new figures based on the last of the original twelve from 1978: Sand People (which you're likely to find a bit earlier in
The Black Series...), Jawas, and Death Squad Commander.
Collectors should also keep a space for the Star Wars Celebration Orlando exclusive Luke Skywalker: X-Wing Pilot and GameStop exclusive R5-D4 (don't think we didn't notice the non-Kenner name Hasbro...).

Hasbro also had on display the next assortment of figures in The Black Series 6-inch line. When last we saw Hasbro, at the 2016 San Diego Comic-Con, the prototypes for the Qui-Gon Jinn, Hera Syndulla, Lando Calrissian, Tusken Raider, and Emperor's Royal Guard, but this was our first unclose look at the full production figures and they looked great!

The Black Series 6-inch Centrepiece line may become a big hit. In what first appeared to be a reimagining of the old Unleashed collection, these are meant to be customizable display pieces that work well on their own, or with your other 6-inch figures added in. They had the upcoming Luke Skywalker Hoth Battle and Darth Vader Tantive IV Battle Centrepiece sets displayed with additional figures and, though it may not be apparent in the gallery above, embedded lights on.

Not as much love was given to the 3 3/4-inch line with only two new action figures revealed, and both of them are simply newer versions of Boba Fett and Han Solo as they appeared in Cloud City. Beyond that, they also had previously announced figures including Admiral Raddus, Fenn Rau, Lieutenant Sefla, Galen Eros, and the Shoretrooper VS Captain Bistan two pack. In this scale, however, is the upcoming Titanium Series die cast figures. Even though they were announced before this event it was interesting to see them in person. We're not sure this line is going to take off, but we'll keep an eye on it to see if it resonates with some of you.


The Black Series Early Bird Mock Up Packaging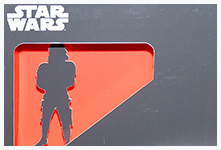 Blink and you'll miss it. As part of the
Star Wars
display in their booth at the 2017 International Toy Fair, Entertainment Earth had a hand made mock up package for
The Black Series
Early Bird Hasbro is releasing this spring. Click the thumbnail above to have a look!
Hasbro's In house Photography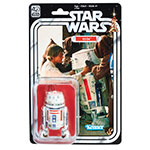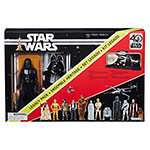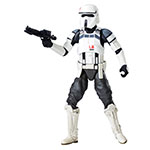 Following the announcements from the Hasbro Fan Media Event, official images were released. Click the thumbnails above to have a closer look.
KOTOBUKIYA
Kotobukiya Reveals New Star Wars Collectibles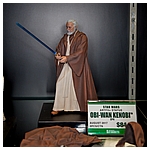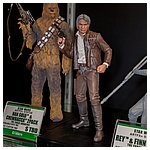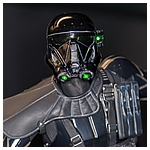 There were some cool new
Star Wars
collectibles on display at the Kotobukiya booth including the unpainted prototypes of
The Force Awakens
Rey & Finn ARTFX+ two pack (the painted samples weren't available) and
The Force Awakens
Poe Dameron & BB-8 (with thumbs up arm) as well as the fully painted
The Force Awakens
First Order Flametrooper & Snowtrooper and
The Force Awakens
Han Solo & Chewbacca,
Rogue One
Shoretrooper Squad Leader & Captain,
Rogue One
Death Troopers,
A New Hope
Obi-Wan Kenobi, and
Rogue One
K-2SO ARTFX+ sets, the
Rogue One
Death Trooper ARTFX statue, and a pile of novelty items. In addition to the upcoming collectibles, Kotobukiya also displayed a very cool
Rogue One
diorama featuring many ARTFX+ Stormtroopers wading through the shore of Scarif.
LEGO
New Star Wars Collectibles In The LEGO Showroom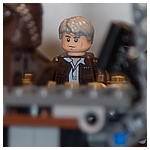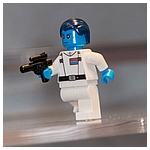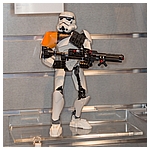 Two hours before the 2017 International Toy Fair opened, LEGO hosted their annual collector media event allowing us and some of our fellow collecting sites to photograph virtually everything on display in their showroom. The
Star Wars
section included the first appearance of the 75523 Scarif Stormtrooper, 75524 Chirrut Îmwe, 75525 Baze Malbus, 75531 Stormtrooper Commander, and 75532 Scout Trooper & Speeder Bike Buildable Figures; and the 75167 Bounty Hunter Speeder Bike Battle Pack, 75160 U-Wing Microfighter, 75161 TIE Striker Microfighter, 75162 Y-Wing Microfighter, 75163 Krennic's Imperial Shuttle Microfighter, 75164 Rebel Trooper Battle Pack, 75165 Imperial Trooper Battle Pack, 75166 First Order Transport Speeder Battle Pack, 75168 Yoda's Jedi Starfighter, 75169 Duel on Naboo, 75170 The Phantom, 75171 Battle on Scarif, 75172 Y-Wing Starfighter, 75178 Jakku Quadjumper, 75180 Rathtar Escape, 75182 Republic Fighter Tank, 75183 Darth Vader Transformation, 75184 Advent Calendar, 75185 Tracker I, and 75186 The Arrowhead sets. Eagle eye collectors will notice there are two versions of the Battle on Scarif sets. While we were shooting the display, the team at LEGO replaced earlier version of the set with one closer to the final production version. While nothing for
The Last Jedi
was on display, they did have a wall graphic indicating their plans to continue their
Star Wars
collection to include the eighth episodic film in the franchise in a galaxy far, far away...
MATTEL
40th Anniversary Hot Wheels!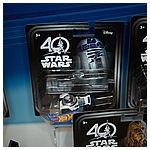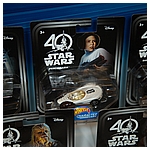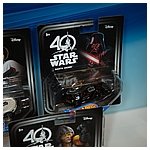 Mattel will be repackaging their
Star Wars
Ships, Character Cars, and Shipcars on
40th Anniversary
cards. Click the thumbnails above to have a closer look at the first assortment to come in the new packaging.
METAL EARTH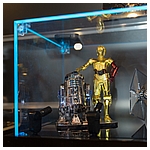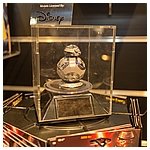 There were many
Star Wars
items on display at the Metal Earth booth. Click the thumbnails above to have a closer look at all they had on display from a galaxy far, far away...
Qmx - QUANTUM MECHANIX
You Haven't Heard Of The Millennium Falcon?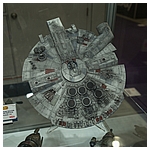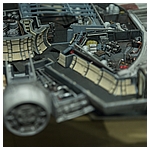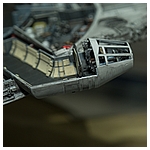 While there was only one
Star Wars
item on display in the Qmx booth, it was spectacular! The Millennium Falcon Cutaway Replica is still in its prototype stage. It hasn't received final Lucasfilm approvals just yet and price and release date haven't been sorted out. One thing is certain, this is going to be a must have as soon as it is available! For more of their booth, make sure to head over to
Cool Toy Review
.
SE7EN 20
Formerly Known As Underground Toys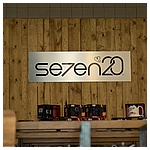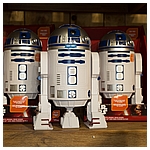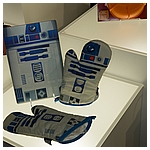 Formally known as Underground Toys, the initial 2017 International Toy Fair presence of Se7en 20 has our attention. in years past, we were drawn to the Underground booth, but their product line has become too cool not to discuss. Click the thumbnails above to have a closer look at what we were permitted to shoot, and follow through to find out more on what they plan on officially revealing at
Star Wars
Celebration Orlando 2017.
Following years of success limited to the doors they could open with their established name, Underground Toys rebranded themselves for 2017 as Se7en 20. Despite the rebranding, their commitment to producing unique collectibles inspired by a galaxy far, far away hasn't changed.
Collectors attending
Star Wars
Celebration Orlando 2017 will have the opportunity to be the first to publicly view what the company has in store for
Star Wars
collectors. Those in attendance, as well as those that follow the event coverage right here, will have nearly look at the Pinache collection Se7en 20 will be officially unveiling at the event.
Unless their current trajectory changes, you can expect to see at least a series of
Star Wars
branded Swell-stlye water bottles, an assortment of travel mugs, spatulas, ceramic plate sets, tea cups, cutting boards, and even more plastic plateware than seen in the links above.
Stay tuned for more...
SUPER7
Have You Had Enough Of Boba Fett? We Didn't Think So.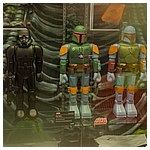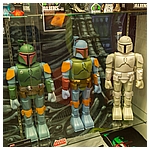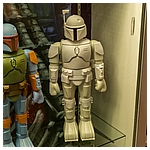 What's that we saw at Super7's booth at the 2017 International Toy Fair? Is it a new colorway for their Super Shogun Boba Fett? You better believe it! Moving past their first release based on
The Empire Strikes Back
and the second based on the classic Kenner colorway, Super7 is in the process of offering collectors a new version based on the original preproduction Imperial Super Stormtrooper version of what would become the nefarious bounty hunter we all know and love. Click any of the thumbnails above to have a closer look at this new massive-sized figure as well as all the
Star Wars
items the San Francisco based company had on display.
SURREAL ENTERTAINMENT
Beverages Always Taste Better In Star Wars Receptacles.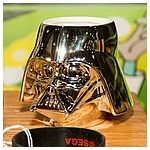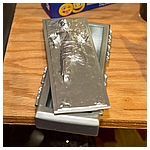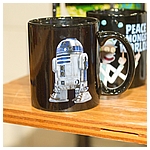 Surreal Entertainment had some
Star Wars
stuff mixed in with all the other licensed products in their booth. We did our best to find all of it, but judging by the subtle designs some of the products in gallery linked above, we can't be positive we saw all of it.
SWIMWAY
Pool And Beach Fun From A Galaxy Far, Far Away...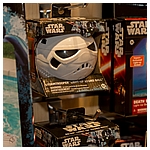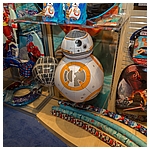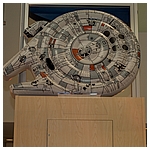 Whether you are a completist or a family-oriented collector, what SwimWays had on display in their booth at the 2017 International Toy Fair should be of interest. Click the thumbnails above to have a closer look at their licensed
Star Wars
beach and pool accessories!
UNCLE MILTON
Through Science Many Things You Will See...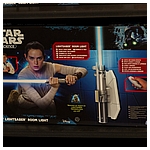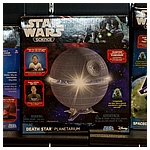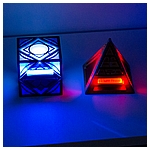 With the addition of the Rey Lightsaber Room Light and Sith Holocron, Uncle Milton also displayed the
Rogue One
packaging for their
Star Wars Science
line. Click the thumbnails above for the full gallery.
VANDOR
Putting The Force Back On The Kitchen Table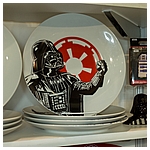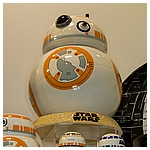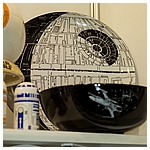 The
Star Wars
dish ware and tchotchkes on display in the Vandor booth had us considering a new subcategory in our collections. Click the thumbnails to have a closer look!