By D. Martin Myatt & Nick Napoli
February 17-20, 2018
With Lucasfilm releasing images and information on many of the products being released for
Solo: A Star Wars Story
, you'd think there would be a lot of stuff based on the film to see, but only Hasbro and LEGO were permitted to show products from the upcoming feature film. Our team braved the constantly changing New York weather to cover the 2018 International Toy Fair leaving no fans behind!
ANOVOS
A Forceful Social Solution For Your Butterface Bub.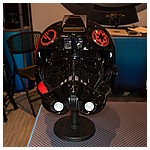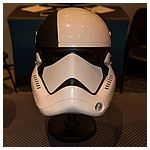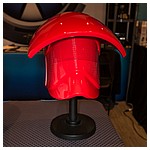 This year's event marked the first showing from ANOVOS. Keeping their introduction to this trade show simple, they opted to reduce their normal display to a selection of helmets including the Inferno Squad TIE Pilot, First Order Executioner, Elite Praetorian Guard, Imperial Stormtrooper, Rey's Scavenged Rebel Pilot, First Order Stormtrooper (Phase II), and Poe Dameron's Black Leader buckets.
---
BEAST KINGDOM
Attack Of The Eggs!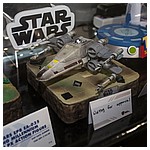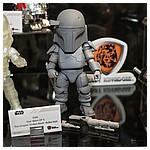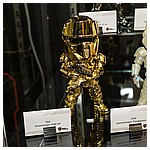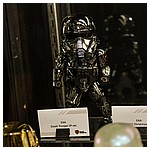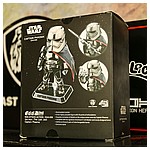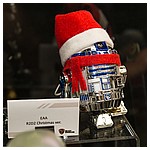 Hidden in a corner of Previews' 2018 International Toy Fair booth was a small display of Star Wars Beast Kingdom products that included a boxed
The Last Jedi
Captain Phasma, the current prototype of the X-Wing Fighter,
The Force Awakens
Millennium Falcon, floating BB-8, Gold Version Shoretrooper, Transparent Version Stormtrooper, unpainted
The Empire Strikes Back
Boba Fett (despite previous public showings of the painted figure), Chrome Christmans R2-D2, Smoke Chrome Death Trooper Egg Attack collectibles.
---
BLUEFIN DISTRIBUTION
Tamashii Nations & Bandai Hobby Bring The Force!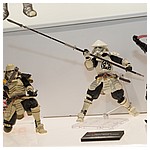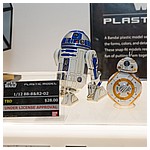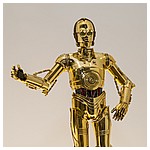 Bluefin Distribution had some exciting new reveals for
Star Wars
collectors in their booth at the 2018 International Toy Fair. Continuing their very cool
Movie Realization
collection, Tamashii Nations revealed the Spear-toting Yari Ashigaru Stormtrooper. As much as we love the Movie Realization line and are literally excited about ever new addition to the line, it was something on the Bandai Hobby side of the
Star Wars
display that took our breath away.
We honestly never thought it would happen, but licensing has found a way to released Bandai Hobby's fully-articulated plastic model figures. The R2-D2 & BB-8 set, and the individually packaged Darth Vader and C-3PO 6-inch snap together kits molded in the key colors leaving the builder to only need to add decals and weathering were on display. This new (for North America) series is bound to blow minds as the line grows... and trust us, there are some awesome pieces slated for release if this line is supported. WE're keeping our fingers crossed that these kits open the North American distribution doora for Tamashii's SH Figuarts action figures.
---
EXQUISITE GAMING
Rebellions Are Built On Hope...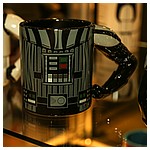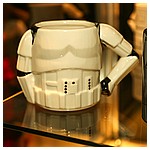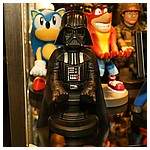 Another company checking 2018 International Toy Fair off of the first time list was Exquisite Gaming Limited. On display in their booth were their 2D and 3D Meta Mugs and Cable Guys phone / controller holders. At the time the gallery above was shot, EGL, which has released these
Star Wars
items Internationally, didn't have a North American deal in place. They were hopeful that by the end of this year's event, they would.
---
FANTASY FLIGHT GAMES
A Game That underscores A Galaxy Far, Far Away...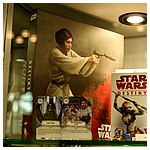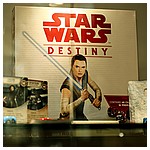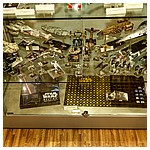 Fantasy Flight Games' 2018 International Toy Fair booth had a section dedicated to their ongoing
Star Wars
offerings. This year, they are promoting the
Destiny
collectible dice and card game. This strategy-focused game is focused on a last person standing resolution.
Like previously released
Star Wars
collectible dice and card games, Fantasy Flight Games is offering many unique products designed to let you feel the Force. The
Destiny
collection includes numerous card and dice packs and a nice Princess Leia Organa card binder. Viewers of the gallery linked above should take note that the
Legion
figures shown are custom hand painted for the display. The ones sold for the game are unpainted.
---
FUNKO
Irresistibly Cute Stuffs Are We; Not This Crude Matter.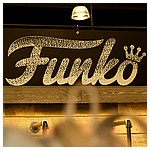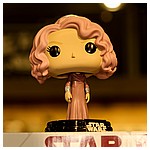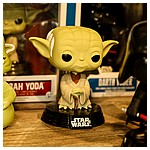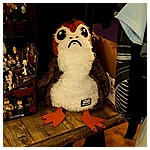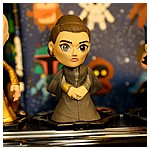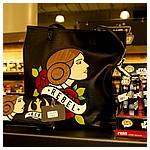 Having acquired Loungefly in 2017, Funko's 2018 International Toy Fair
Star Wars
display featured products from both brands. Most of the items shown have already been for sale, so we were all about the Porg bag; and why wouldn't we?
---
GENTLE GIANT
A High-End Company Ready To Own The Mass Market!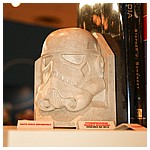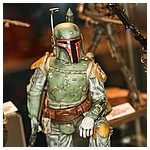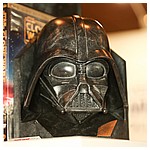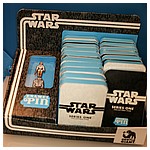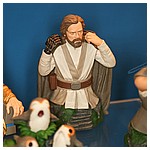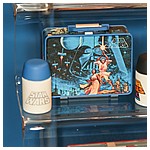 Bust-Ups
are back! For the last few years, our friends at Gentle Giant were hard at work creating a new collection of products intended for a new audience: mass market! They are now producing three new
Star Wars
lines, and they are all pretty cool! Beyond revisiting
Bust-Ups
, which are perfectly suited for today's impulse collector, Gentle Giant is also going to be offering
Tiny Tin Pocket Pails
and (the insanely cool)
Enamel Pins
collections. All three will be sold in blind packs. We expect to keep buying them until we get them all!
In addition, they had some of their limited edition high end collectibles on display as well. We had our first look at the Boba Fett and 4-LOM Collector's Gallery statues. Up next are Dengar and Jabba's favorite decoration. Gentle Giant Ltd. has designed two absolutely gorgeous book ends. The Darth Vader and Stormtrooper bookends will be sold separately this summer, and collectors should expect this to be an ongoing series of awesome must-haves.
---
HASBRO
Hasbro Solo Star Wars Universe Display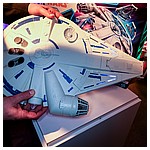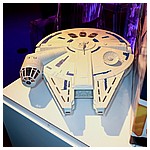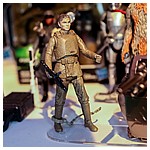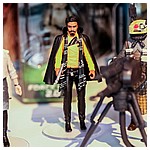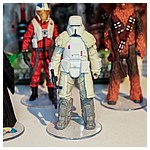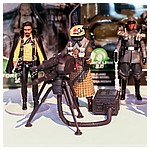 Hasbro had a decent assortment of the
Solo Star Wars Universe
products on display in the
Star Wars
section of their showroom. including many 3.75-inch action figures and the Millennium Falcon playset. Having a bit revealed earlier in the day at the LEGO event, the Falcon toy on display at Hasbro was all we needed to know that the jarring image of the Lando Calrissian Millennium Falcon is actually pretty cool. We all know that the YT-1300F Corellian light freighter was seen two times in the prequel films, making the ship's
Solo
reimagining completely nonsensical, until you consider that Lando pimped his ride making it a kit car in a galaxy far, far away...
The action figures on display included a two pack with muddied versions of Chewbacca and Han Solo (in Imperial armor) which seems to reveal that
Solo
may very well show us the event that lead to the greatest partnership in modern pop culture.
Solo - Star Wars Universe 2018 Product Descriptions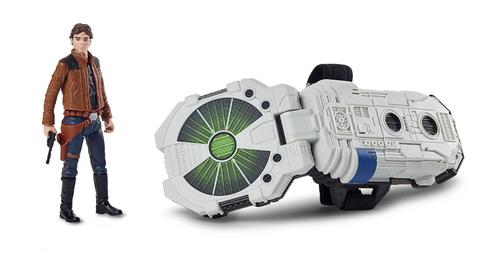 While we were busy editing the images seen here shot in their showroom at the New York Times building, Hasbro released the above linked gallery of official photography for
Solo: A Star Wars Story
toy offerings along with a
press release
for outlets unable to attend the event.
Return Of The Vintage Collection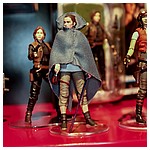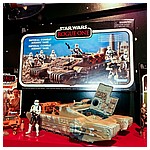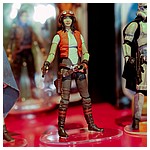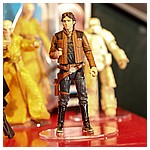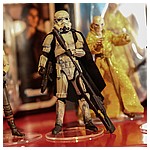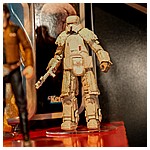 Whether you choose to remember it or not, Hasbro always said
The Vintage Collection
was only taking a break, and it was always their intent to bring it back. That being said, knowing it is coming back is nothing near as cool as seeing the first new wave in years! On display were single carded figures of Rebel Soldier (Hoth), Death Trooper Specialist, First Order Stormtrooper, Luke Skywalker (Jedi Master), Kylo Ren, Rey (Jakku), Captain Cassian Andor, Jyn Erso, Rey (Jedi Training), Doctor Aphra, Stormtrooper (Mimban), Supreme Leader Snoke, (young) Han Solo, and Range Trooper along with the very cool Imperial Combat Assault Tank vehicle with Turbo Tank Driver!
The Vintage Collection Jabba's Sail Barge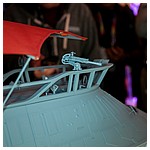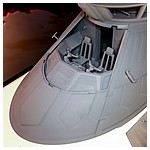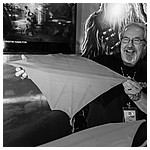 The biggest reveal (quite literally) was the crowdfunded 3.75-inch Jabba's Sail Barge, the Khetanna. This 4-foot beast of a toy will be released as part of
The Vintage Collection
only if Hasbro reaches its goal of 5,000 orders through their new
HasLab
project.
The Black Series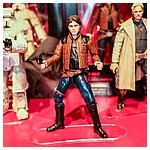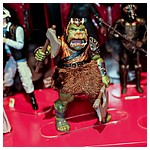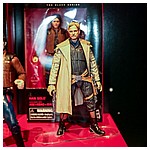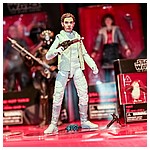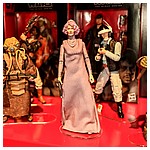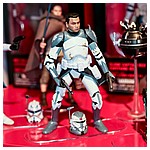 Hasbro had many cool new 6-inch figures from
The Black Series
on display including the mass release version of the Clone Captain Rex, Grand Moff Tarkin, Dengar, Lando Calrissian (Skiff Guard Disguise), the Rebel Droids three pack, Zuckuss, Vice-Admiral Holdo, Gamorrean Guard, 4-LOM, Princess Leia Organa (Hot Outfit), the Porg two pack, Qi'Ra, young Lando Calrissian, young Han Solo, Range Trooper, and Beckett. In addition, the electronic Darth Vader helmet, Riot Control Baton, and Kylo Ren Centerpiece diorama were also shown.
Hasbro's Other Star Wars Offerings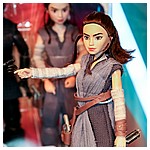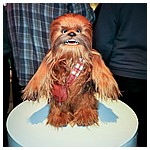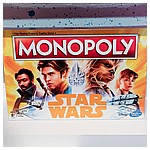 It may be hard for some long-time
Star Wars
collectors, but Hasbro, and Kenner before the purchase, has always designed toys intended to be played with by children, as such, not all products necessarily resonate with adult collectors of children's toys. Above is a tally showing off such
Star Wars
toys and games on display in the Hasbro showroom.
Official Hasbro Images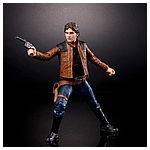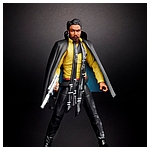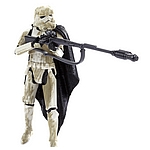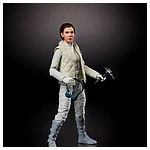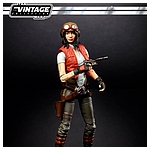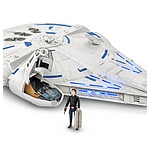 In addition to the gallery linked above, Hasbro also released official photography of the new releases from
The Vintage Collection
,
The Black Series
, and
Star Wars Universe
lines.
---
KOTOBUKIYA
You Want This, Don't You?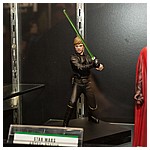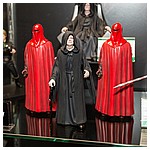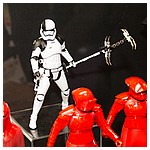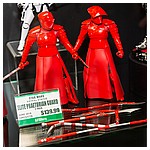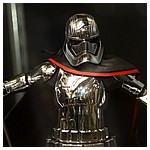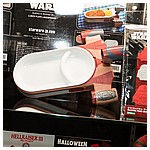 As always, Kotobukiya had the a selection of upcoming ARTFX+ model kit statues on display in their booth, including Luke Skywalker (Jedi Knight, like his father before him), both the sitting in throne and standing with his Royal Guards versions of the Emperor Palpatine kit, the First Order Executioner Stormtrooper, and Elite Praetorian Guard two pack (that we're all going to purchase four of for a complete set!). The only ARTFX statue on display is the absolutely must-have Captain Phasma. Based on her appearance in
The Last Jedi
, this amazing 16.5-inch tall PVC statue features film accurate armor and her battle spear. In addition, Kotobukiya had some cool new food products on display.
---
LEGO
With One Small Move, LEGO Assured Us All Is Good.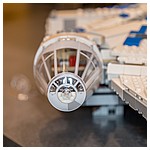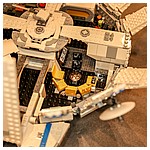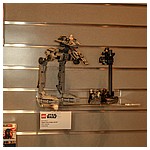 While most of the stuff on display at the LEGO showroom had already hit shelves, they showed off the new
Solo: A Star Wars Story
Millennium Falcon (even revealing a few surprises in doing so), Yoda's Hut, and the Darth Maul Buildable Figure.
Being the first company we visited at the event, LEGO was able to ensure us that the
Solo
Millennium Falcon isn't as bad as we feared it could be. With in minutes of us seeing it, we were able to have a representative for the Danish toy making juggernaut remove the silliness from the front of the most iconic spaceship we can think of. As it turns out, this is some sort of shuttle or escape craft and not a piece intended to be permanent. (Phew!)
You can also check out our detailed coverage and analysis for a more detailed review.


---
MATTEL
Mattel's Star Wars Hot Wheels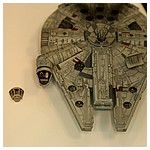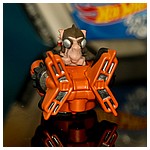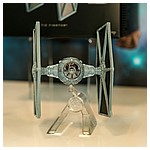 Mattel didn't have a lot of
Star Wars
related products on display in the area of their showroom made available to us at the 2018 International Toy Fair. On display was their new line of
Battle rollers
and their Hot Wheels deluxe TIE Fighter and Millennium Falcon vehicles, which you can check out by clicking on the the thumbnails above.
---
UNCLE MILTON
Science Toys You Can't Help Buy Dig!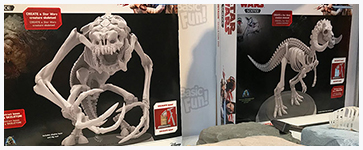 Uncle Milton debuted a brand new
Star Wars
line that we can't help ourselves from falling in love with. The Xcavations Creature Crates give us what we didn't even know we needed:
Star Wars
creature skeletons and skulls! A No brainer, right? As it turns out, somehow we missed Uncle Milton this year, so we'd like to direct your attention to
the awesome gallery posted on CreatureCantina.com
.
---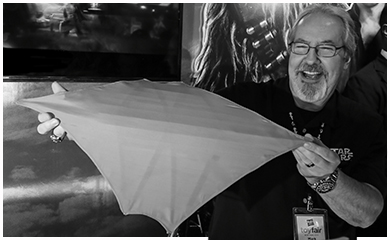 2018 International Toy Fair Special Feature page edited by D. Martin Myatt, with contributions from Jeremy Beckett. Page Built by Adam Lamping.