By D. Martin Myatt, Nick Napoli, & B. Acree
February 16-19, 2019
It was anyone's guess what we'd see at the 2019 International Toy Fair in New York City. After a challenging year at retail, and the upcoming
Star Wars
feature film being lead by secrecy-obsessed Bad Robot director J.J. Abrams, we knew there would be less surprises this year than in years past. Many of the companies we visited had nothing new on display, and others had moved on to other challenges.
Star Wars
mainstays Mattel and Kotobukiya weren't displaying any new products, but both companies confirmed they have upcoming releases based on the characters from a galaxy far, far away, but couldn't discuss them due to Lucasfilm's Episode IX marketing plan.
BLUEFIN DISTRIBUTION
The Force Is Strong With Bandai Spirits Hobby & Tamashii Nations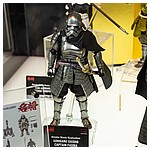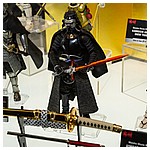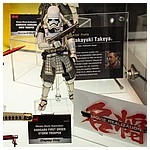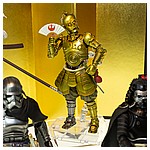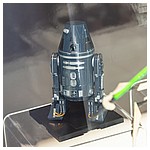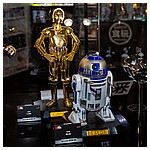 Bluefin Distribution had many Bandai Spirits Hobby and Tamashii Nations
Star Wars
collectibles on display including the North American reveal of the stunning Ashigaru Daisho Captain Phasma Meisho Movie Realization figure. Click this link to
check out the whole gallery
!
---
EXQUISITE GAMING
What Has One Arm, No Head, And Is Filled With Coffee?
Following the mobile phone holders they displayed a year earlier, Exquisite Gaming revealed their next step into a larger world with their character coffee cups and Espresso sets featuring four cups, saucers, and spoons. The imperial set included Star Destroyer saucers, spoons with the Imperial insignia on them, and cups of a Stormtrooper, Darth Vader, Boba Fett, and Grand Moff Tarkin. The rebel set included Millennium Falcon coasters, Rebellion insignia on the spoons, and cups of Chewbacca, Han Solo, Lando Calrissian, and Princess Leia. Expect these to retail around $30 and come in a gift box set. Follow this link to
view the full gallery
.
---
FUNKO
Star Wars Inspired Collectibles Pop Up At This Washington Based Company's Booth Yet Again!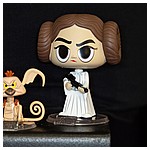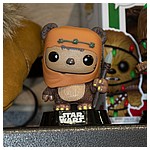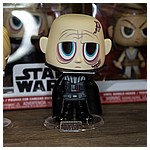 A recurring theme we heard while making our way through the Javitz Center in New York City covering the 2019 International Toy Fair, was that companies holding the
Star Wars
license had nothing to show in accordance to the embargo placed on Episode IX themed products. Funko was one of these companies, but unlike others, they made sure to display collectibles from a galaxy far, far away in their showroom to keep
Star Wars
in the conversation. Follow this link to
have a closer look on what they had on display
!
---
GENTLE GIANT LTD
Diamond Select Toys Give Collectors A New Hope With Bold Acquisition!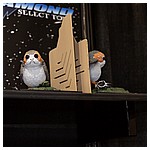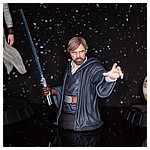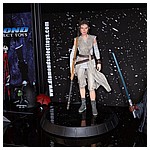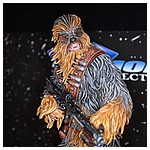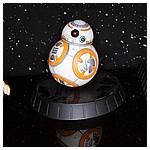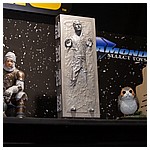 With the purchase of Gentle Giant Ltd, Diamond Select Toys is back in the
Star Wars
game. At least for the time being. While they currently don't have a license in place with Lucasfilm, they are able to fulfill the items solicited by GGltd. We expect to see the license agreement with Lucasfilm worked out before Celebration. Follow this link to have a look at
the Star Wars stuff they had in their showroom
!
---
HASBRO
Hasbro The Vintage Collection Display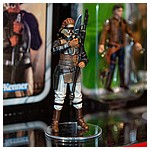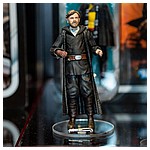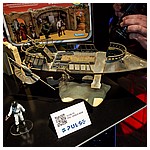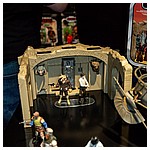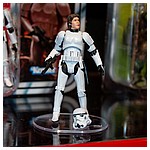 Hasbro blew minds with some cool additions to
The Vintage Collection
. In the wake of the Haslab Sail Barge success, Hasbro displayed a few new amazing themed additions to the popular line including the Walmart exclusive Lando Calrissian (Skiff Guard Disguise) single carded figure, which is a retooled release making it the right height, the Walmart exclusive Jabba The Hutt's Palace playset, which features
TVC
single carded Han Solo and Ree-Yees figures, the online exclusive Skiff Guard three pack that offers the brand new Vedain and repacks of Vizam and Jabba's Skiff Guard, along with the stunning new Tatooine Skiff! Follow this link to
see all the cool new reveals on display
!
The Black Series Display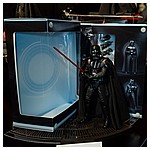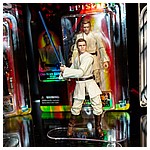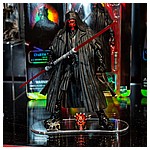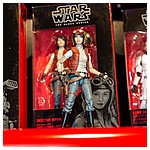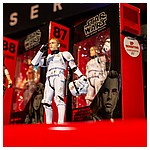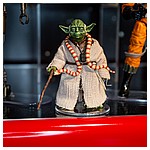 Due to the embargoes Hasbro is under for Episode IX and
The Mandalorian
, there were not a lot of new product reveals for
The Black Series
in their showroom, but what there was was very well received. While not shown in their showroom, Hasbro did announce a packaging redesign for
The Black Series
is on its way. Expect to see it hit retail with the
Triple Force Friday
event.
The first release in the
HyperReal
collection was displayed and Hasbro encouraged attendees to give it a whirl! This new scale features an articulated stainless steel / plastic skeleton under a soft, pliable rubber body. The line wil launch with
The Empire Strikes Back
Darth Vader. It is designed to recreate every iconic pose in the film without compromising the figure with visible points of articulation. It is an incredibly detailed and well balanced figure that will look great on any shelf without talking up the real estate a 1/6 scale figure requires. The figure is packaged dynamically posed in a premium display box along with switch out hands and his Lightsaber. This new scale allows the fabric of his cape and tunic to drape appropriately. Hasbro plans on releasing two figures a year, making it a nice slow-growth collection. The next one will be announced at Celebration. It's been strongly hinted as being Luke Skywalker (Bespin Fatigues)...
Click this link to
have a closer look
at the full display which includes the HyperReal Darth Vader and the Celebration exclusive
Episode One
Darth Maul and Obi-Wan Kenobi figures!!
Introducing The Retro Collection!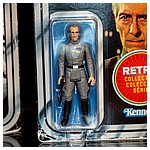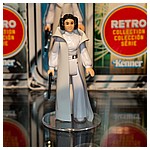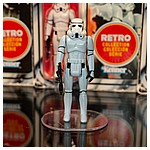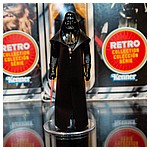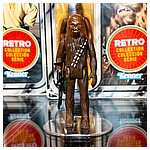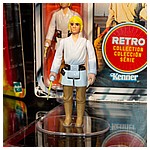 One of the most exciting things we saw at the 2019 Toy Fair was Hasbro's
Star Wars Retro Line
. Hasbro will be producing this collection of action figures based on the classic Kenner action figures. Like
the rocket-firing Boba Fett released in The Vintage Collection
, these figures are new sculpts and are just a bit bigger than the originals. The line will offer newer collectors an alternative to the vintage market prices and gives collectors of the original line some new figures to fill in a hole left when the collection in 1985!
The
Retro Kenner 3.75-inch collection
will launch with six single carded figures including Luke Skywalker, Han Solo, Princess Leia Organa, Chewbacca, Darth Vader, and Stormtrooper along with the Escape From Death Star Game board game which will include the very first classic Kenner style Grand Moff Tarkin carded action figure. All seven figures will be sold in the U.S. exclusively at Target. No word on where they'll be sold outside of the U.S.
Click this link to
see all seven pieces in the line
!
The Haslab Sail Barge & Galactic Heroes Gallery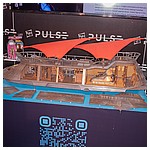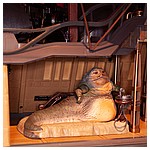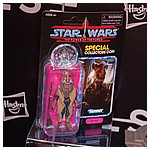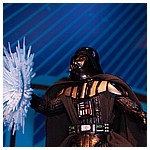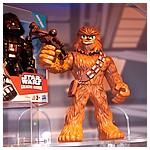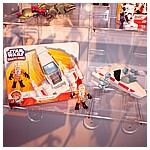 Beyond the main
Star Wars
display, Hasbro has
Star Wars
toys and collectibles on exhibit another corners of their showroom, including the Haslab Sail Barge, and Galactic Heroes figures. Click this link to
have a closer look
!
Official Photography Gallery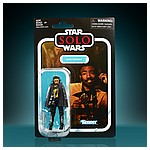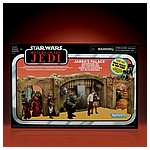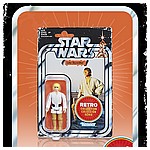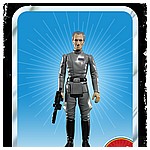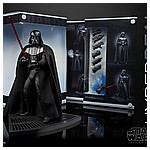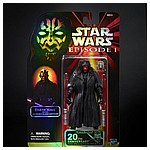 After their presentation at the New York Times building, Hasbro released a digital press kit with included a selection of official images from their 2019 Toy Fair reveals. Follow this link for
the details
and
click here for the photo gallery
.
---
LEGO
With One Small Move, LEGO Assured Us All Is Good.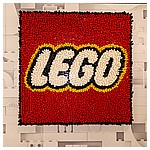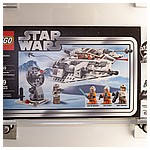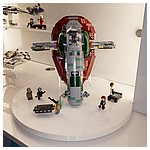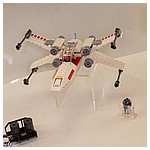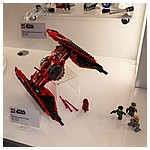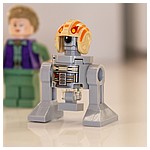 Our coverage of the 2019 International Toy Fair, like many years past, began with an early morning visit to the LEGO showroom. The gallery linked below features all the
Star Wars
stuff they had on display that day, including many items already released, mixed in the display however, was a selection of their upcoming 20th Anniversary sets that feature special reissues of the original 1999 yellow mini figures that came in the initial assortment in their
Star Wars
collection. Follow this link to
have a closer look at everything
!
---
NECA
The New Jersey Toy Makers Find Their Way Back To A Galaxy Far, Far Away...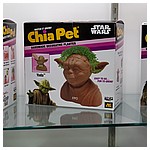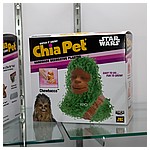 There were
Star Wars
stuff on display in the NECA showroom... Something that hasn't happened since 2002! Follow this link to
the Clapper and Chia Pets on display
. Collectors keen on the pottery that grows will be pleased to know that NECA plans on continuing their Chia Pet line with more
Star Wars
characters!
---
POPAGANDA X POP LIFE GLOBAL
Limited Production Art Avoids Licensing Lawyers At Annual Trade Event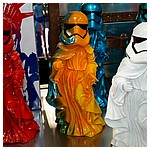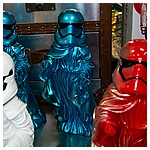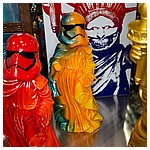 To say we were surprised to find Popaganda at the 2019 International Toy Fair would be an understatement, but we were very happy to have a closer look at
all the colorways of Ron English's Storm Parter vinyl figure
. While these aren't licensed Disney collectibles, their production run is small enough not to be noticed... which is advantageous for everybody that's into such things. Click the link above to check them out!
---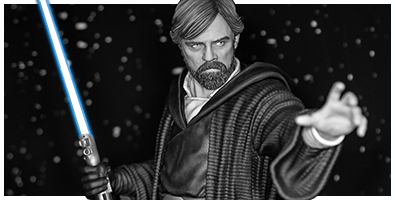 2019 International Toy Fair Special Feature page edited by D. Martin Myatt