56 (LEGENDS) JAINA SOLO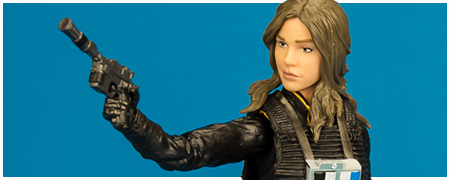 The Black Series Action Figure
Daughter of Leia Organa and Han Solo, Jaina Solo is a Jedi student of Luke Skywalker. Like her father, she is also a crack pilot and skilled mechanic. Like her mother, she is a born leader.
The 56 (Legends) Jaina Solo action figure featured on this page began finding its way to shelves in the last week of November, 2017 as part of The Black Series 6-inch action figure collection. The initial release saw it ship along with 54 Supreme Leader Snoke, 56 (Legends) Jaina Solo, and the redecorated 44 Rey (Jedi Training) action figures.

Product Information
Manufacturer:
Hasbro
Source:
Legends
Year:
2017
Original Retail Price:
$19.99
Assortment Number:
C3737/B3834
SKU:
6 30509 60661 0
What's In The Box?
Jaina Solo Action Figure
Blaster Pistol
Lightsaber Hilt
Purple Ignited Lightsaber Blade
Removable Flight Helmet
Removable Flight Gear
Photography & Text by D. Martin Myatt
comments powered by

Disqus