K-2SO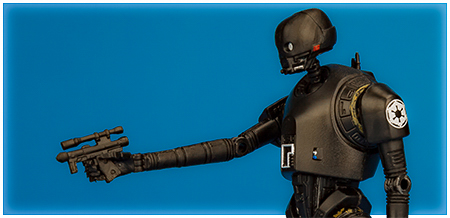 Solo: A Star Wars Story Action Figure
A reprogrammed Imperial security droid now loyal to the Alliance, K-2SO is an alarming sight standing within a secret Rebel base. The pragmatic droid is an effective insertion agent, as he can blend in perfectly at Imperial installations and outposts.
The K-2SO 3.75-inch action figure featured on this page was part of the first assortment of single carded figures in Hasbro's Solo - Star Wars Universe ForceLink 2.0 collection. It shipped along with Qi'ra (Corellia), Range Trooper, Stormtrooper (Mimban), Maz Kanata, Luke Skywalker (Jedi Master), and Chewbacca. Intended for release on April 13, 2018, many retailers opted to ignore the street date and put these figures up weeks earlier.

Product Information
Manufacturer:
Hasbro
Source:
Solo: A Star Wars Story
Year:
2018
Original Retail Price:
$8.99
Assortment Number:
E1638/E0323
SKU:
6 30509 62358 7
What's In The Box?
K-2SO Action Figure
SE-14R Light Repeating Blaster
Is It The Same As Past Releases?
At quick glance, you may think this figure is the same as previous releases, but it is a completely different, far more detailed sculpt.
Photography & Text by D. Martin Myatt
Page built by Adam Lamping
comments powered by

Disqus