SEE-THREEPIO (C-3PO)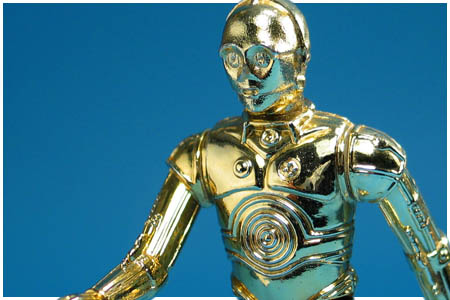 3 3/4" Action Figure
Never accused of being the most accurate figure in the vintage line, See-Threepio (C-3PO) still gets props for keepin' it real. Unlike some of his 12 back chums except his closest friend, the protocol droid got replaced with a newer version in 1982, but when you take his spiffy sack away --and put his arms and legs back on—you'd be hard pressed to spot any sculpting differences.



See-Threepio (C-3PO) shipped on all cards from the Star Wars 12 Back to the The Empire Strikes Back 41 back. It overlapped its replacement C-3PO (With Removable Limbs) on The Empire Strikes Back 47 and 48 back card.



Product Information
Year:
1978
Original Retail:
$1.99
Assortment #:
38220
This figure was packed without any accessories.
Though all vintage figures have minor variations, the only major variation for the See-Threepio (C-3PO) figure is the hard to come by Japanese Takara version, which, though in a similar stance, is an entirely different sculpt. It is easiest to spot by looking at the arms and especially the head. If you have one in hand you will notice the COO (Country Of Origin) stamp stating 'Made In Japan' and the phillips head screw where the standard bolt is usually found on the figure's back.
Photography & Text by D. Martin Myatt