LAND SPEEDER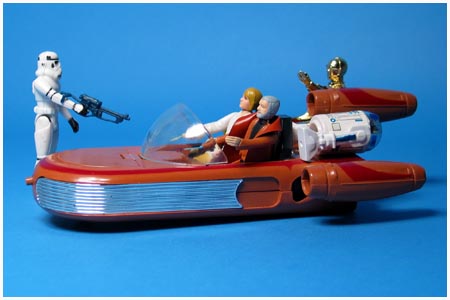 3 3/4" Vehicle

Released in 1978, Kenner's Land Speeder was one of the original 3 ¾" action figure vehicles released. It was released along with the TIE Fighter, X-Wing Fighter, Death Star Play Set, as well as the JC Penney =exclusive Radio Controlled Land Speeder and the Sears exclusive Cantina Adventure Set. Later releases of the Land Speeder included Luke Skywalker and See-Threepio (C-3PO) action figures.

Beyond the standard U.S. version, there were two significant variations released internationally. In the United Kingdom, Palitoy released a version that didn't have an opening hood (or, Bonnet, as it is known in the U.K.), and Australia's TolToys produced a version that had stickered details in favour of Kenner's painted darker brown accents. The TolToys' version was also made available to Canadian consumers through a partnership with Kenner Canada.

In 1984, Kenner rereleased the Land Speeder, along with the Darth Vader TIE Fighter and Patrol Dewback, in the Collector Series. This subline only lasted the initial release and for the first time since 1979 saw the original Star Wars logo displayed on store shelves. The Collector series utilized the original packaging with a starburst logo added to the right side corner indicating the unique nature of the rerelease.



Year: 1978
Original Retail: $4.99
Assortment #: 38020


Beyond the variations listed above, the domestic Land Speeder saw no less than four minor grill variations.
Photography & Text by D. Martin Myatt


Back To Kenner