MILLENNIUM FALCON SPACESHIP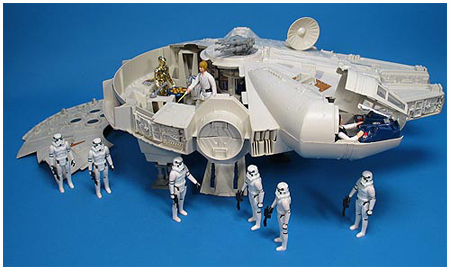 With Battle Alert Sound
Despite what you may have thought, the Millennium Falcon Spaceship wasn't released in the initial 1978 vehicle & playset assortment along side of the X-Wing Fighter, TIE Fighter, Land Speeder, Radio Controlled Land Speeder, Cantina Adventure, and the big plastic Death Star Space Station Playset. In fact, it wasn't even released in 1978. Kenner's iconic toy based on the flagship of the original Star Wars movies took a long time to create, and didn't hit shelves until 1979, along with the Land Of The Jawas playset, the Creature Cantina playset, the Droid Factory playset, the Patrol Dewback, Darth Vader TIE Fighter, the Imperial Troop Transporter.
The Falcon was repackaged in 1980 with Kenner switching out the Star Wars logo in favour of The Empire Strikes Back logo. All other aspects of the 1980 packaging matched the 1979 package art. The artwork was swapped out to Bespin Cloud City images for the 1981 release, and then again in 1983 with Tatooine inspired images and the Return Of The Jedi logo.

Product Information
Year:
1978
Original Retail:
$29.99
Required Batteries:
2x C Cells
Whatchu Gotta Know:
For the most part, the Millennium Falcon toy didn't see much in the way of alterations throughout its five year production run, at one point early on, Kenner added an outline detail of the smuggling floor panel to the removable top piece to show how it can be stored. There currently isn't any known documentation stating when the change was made.
Photography & Text by D. Martin Myatt