DROID FACTORY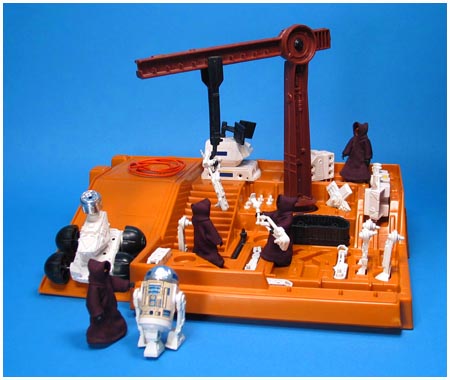 3 3/4" Scale Playset

Released in 1979, Kenner's Droid Factory Playset was easily the most interactive toy in the entire collection. It was released along with the Land Of The Jawa Playset, the Creature Cantina Action Playset, the Patrol Dewback, the Millennium Falcon, the Darth Vader TIE Fighter, the Imperial Troop Transport, and the Radio Controlled Jawa Sandcrawler.

In 1980, Kenner altered the packaging by not only swapping out the Star Wars logo with The Empire Strikes Back logo, but also with a new image showing Luke Skywalker and Ben (Obi-Wan) Kenobi shopping for droids. The Kenner Canada version of this toy was only available in the Empire Strikes Back box. The Droid Factory was not offered again after 1980.

In the United Kingdom, Palitoy released a completely unique Droid Factor that looks nothing like the North American version. Stay tuned for images of this version some time in the future.

Year: 1979
Assortment #: 39150


Photography & Text by D. Martin Myatt


Back To Kenner