MILLENNIUM FALCON (KESSEL RUN)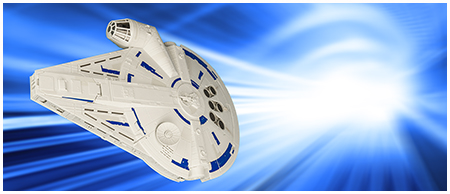 Solo - Star Wars Universe Vehicle
Lando Calrissian's ship, the Millennium Falcon was a beautiful starship built for a lifestlyle of fast flying, partying, and making with more alien species than Captain Kirk. Little did any of his guests know it was nothing more than a piece of junk (that's got it where it counts) kitted up to look like a first class love machine.
Hasbro's Kessel Run Millennium Falcon, which was officially released on April 13, 2018 as part of Lucasfilm's roll out of products based on the Solo: A Star Wars Story feature film, may be the smallest 3.75-inch scale compatible version of the Corellian freighter ever released but it's electronic features make it one hell of a fun toy to play with!

Product Information
Manufacturer:
Hasbro
Source:
Solo: A Star Wars Story
Year:
2018
Original Retail Price:
$99.99
Assortment Number:
E0320
SKU:
6 30509 62351 8
What's In The Box?
Millennium Falcon Vehicle (14 pieces)
Han Solo (Kessel) Action Figure
DL-44 Heavy Blaster Pistol
Coaxium Containers
Instruction Sheet
Sticker Sheet
3x AA Batteries (installed)
Photography & Text by D. Martin Myatt
Page built by Adam Lamping
comments powered by

Disqus